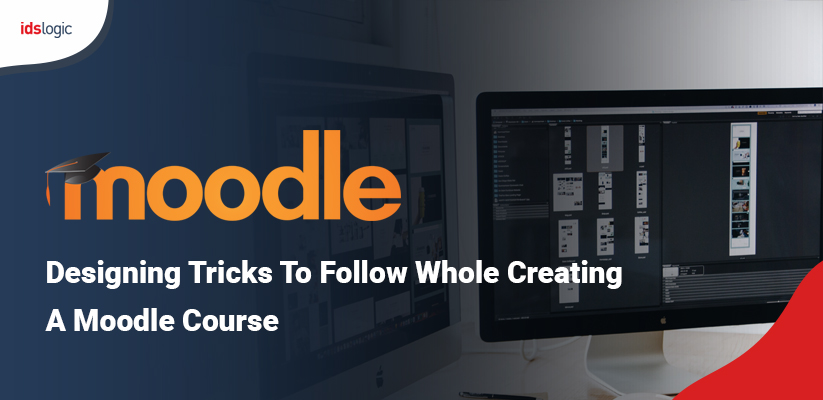 Designing Tricks to Follow while Creating a Moodle Course
With covid 19 pandemic it's time to act for the change and also embrace and help people manage their learning sessions. This is the time when you can create an online course and offer it to your audience so that they can continue with the learning phase and at the same time organizations can live up to the promise made to stakeholders. This is the time to act and students need you the most now more than ever. With Moodle LMS development everything will become easy and you can create online courses that can be easily accessed by your students from anywhere, anytime and from any device.
Here in this blog, I will share with you some creative Moodle hacks that can keep your online course interactive and engaging. So while designing your course, you need to focus more on the visuals, creative aspects and the engagement factors.  Here is what you need to know:
Create a Compelling Logo:
If you want your online courses to stand out from the competitors, then it is crucial to trigger interest among the potential customers and boost brand recognition and also explain them more about your brand. A compelling logo designed perfectly is a great communication tool as it appears on all your courses, reports and also your business card. Your logo should speak more about your organization and designing a good logo is essential for any business.
Choose Some Bright and Modern Colours for Your Moodle Course:
Colour can make a design come live and it can attract the attention and set the mood for learning. While proceeding with your Moodle development course, choose some great set of colour combinations that can influence the emotions and perceptions and keep the students fresh. Dull colors may make them get bored too early and that will also become an instant indicator of how updated your course is.
Use a Collapsed Topic Menu to Keep the Course Clean and Tidy:
Keeping too many course details on a single page will only make it difficult for the learners to find the course that they are actually searching.  It is very important to design collapse structure so that the design is clean and your Moodle LMS course can present a better landing page with core information. You can choose to use some plugins that are completely customizable for text, colour, left or center placement.
Also Read: Why Your Moodle Mobile App Needs a Good Branding Strategy
Use the Random Glossary Block Creatively:
The Glossary block sits on the Moodle sidebar and it is used as a dictionary for vocabulary in the online course. This is much more fun if you think creatively. The Glossary block also helps to pull new entries each time the page loads and every time the learner visits the page and it looks something different. It helps to add visuals to the main page without cluttering the design of the page.
Add an RSS feed on the Sidebar:
The RSS feed is a simple plugin that helps to grab the headlines from your favorite online news sources, and helps to pop them in the course. The newsfeeds are live and so you will need to choose a proper design for your Moodle website and according to the age of the learners. There are literally thousands to choose from, but one thing that you need to know is that you should publish news, current events and blogs so that you have something for the feed.
Make Your Moodle Pages More Visual and Reduce the Text:
Research has stated that visual information captures the human mind faster than textual information. So to supercharge your Moodle course, you need to get rid of the text that makes the pages too bulky and long. Instead of the text, you can use slide shares, music, videos and screencasts and replace the long blocks of text.
Also Read: Why Branding and Customizing Your Moodle Mobile App is Important