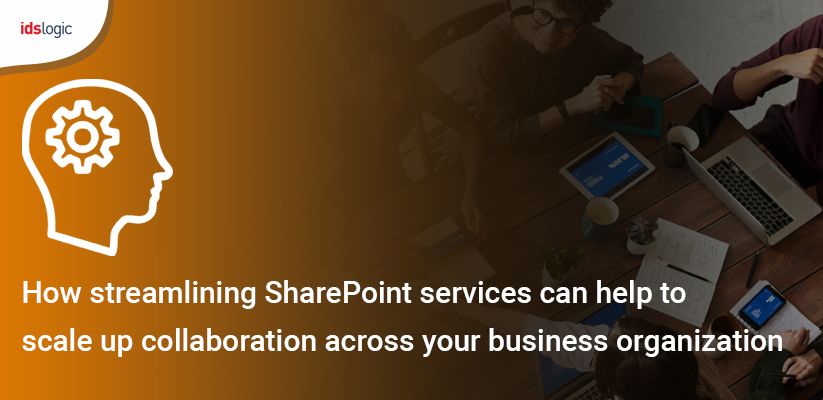 How Streamlining SharePoint Services can Help to Scale Up Collaboration Across Your Business Organization
In today's online market, the word cloud is a buzzword which is rapidly changing the market dynamics and enterprises too are increasingly adopting the cloud technology. Since it helps overcome the geographical barriers easily and makes remote work possible, cloud has become a part of the enterprise culture.
Businesses are now looking out for innovative technologies that can help them to implement cloud services, which enable the teams to work from anywhere and anytime thereby breaking the shackles of the traditional office work environment. Employees too want to work faster and contribute towards the growth of their company without having to sit in front of their desk.  More and more enterprises are now looking to adopt SharePoint development services and hire companies that offer a variety of services together with an innovative experience.
How SharePoint Website Services can Help to Scale Collaboration
With business enterprise shifting from traditional storage to cloud, this change is fueling the transformation and the revolutionary products like SharePoint Online is gaining popularity. SharePoint services continue to remain a popular due to SharePoint's powerful collaboration and enterprise content management features. SharePoint is also considered to be one of the most reliable document management system which is available and Microsoft has been regularly adding some new enhancements and components to enable enterprises create powerful collaborative enterprise solutions.
SharePoint development is an excellent collaborative tool that helps to double up as a document management system and helps easily to integrate with the Office 365 suite. Additionally, it is extremely flexible and offers high security standards, and the excellent File sharing, built in search portals and business intelligence features offered by SharePoint Online allows the users to find relevant information and helps to maintain consistency and also act as an excellent content life cycle management tool.  This seamless integration is a great benefit for employees who are used to working with PowerPoint or Microsoft Word.
Also Read: What is Managed Metadata in SharePoint and What are the Benefits
Microsoft has also added Business intelligence features to SharePoint, thereby allowing business owners to locate important information easily, which helps them to take critical decisions that are informed. The security and control are also some core areas that make the enterprises increasingly adopt SharePoint and it is no surprise that SharePoint development has over 125 million users and generated a good share of revenue for Microsoft Corporation.
Some Benefits of Using SharePoint Development:
Integrated Environment:
SharePoint intranet development is compatible with other Microsoft products, which is the core reason of its huge popularity. Besides the platform easily integrates with any third party software or any enterprise system and facilitates enterprise collaboration.
Easy Adaptability:
SharePoint services also allow businesses to use the needed tools without overloading with unnecessary software. SharePoint allows to create a solution that helps to meet the collaboration needs of any organization of any domain or size.
Increased Productivity:
SharePoint also offers the employees with an opportunity to collaborate from any location when they work from home or while on the go and this helps to reduce the employee downtime. This also helps to reduce the time that is spent on waiting for information and this ultimately helps the employees to be more productive.
Also Read: How to Adopt a Remote Work for Long Using SharePoint