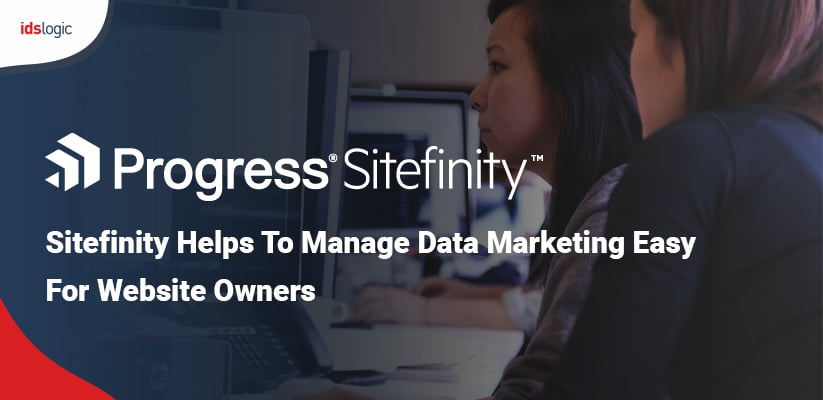 Sitefinity Helps to Manage Data Marketing Easy for Website Owners
Every marketing team struggles with managing lots of data that are generated from their organization. Businesses are undergoing digital transformation and also incorporating more technical, scientific and data driven strategies. The marketing professionals are now tasked with quantifying, measuring and executing and also expanding on this growth strategy based on customer centric approach. So for organization to succeed in the competitive landscape, they need to use data driven marketing and achieve digital transformation.
Sitefinity is a popular CMS that can help to manage web content, have complete control on it, share it and publish it whenever needed. With customer demands pushing organizations to adopt digital transformation, customers and the competitive landscape demanding personal and optimized experiences, businesses processes and even business philosophies need to catch up now.
Why is Sitefinity CMS Best for Business Organizations?
Sitefinity is a comprehensive ASP.NET based CMS that offers some great features and tools to the users to create dynamic and fully editable sites easily. It comes with an integrated digital marketing platform and Sitefinity offers another list of tools and features to help websites market their services and products well across many channels. This makes Sitefinity development a complete solution for all types of websites whether it is small or large organization or a personal blogging site.
Research has stated that about 91% of the senior corporate marketers believe that successful brands use customer's data in order to drive the marketing decisions. Organizations have data in some form or the other and in great volume and it is very important to use a feature rich CMS like Sitefinity CMS development that can help to manage the data and formulate business process.
Sitefinity CMS Development helps in Engagements and Interactions:
This represents the varied steps in the customer journey that spans multiple channels and they can be online and offline interactions also both in the physical as well as the digital worlds. Sitefinity helps to present web content that is designed to increase interactions with the customers and helps to keep them engaged for a longer time period.
Also Read: How Sitefinity CMS Integration with Third Party Tools can Boost Website Performance
Promote Services and Products via Email Marketing:
With Sitefinity, your marketing team can easily create and target the customers through the email marketing campaign by simply using the drag and drop tools to design it. You can also integrate them into various social media platforms with your site and with more advanced features of the digital marketing platform, you can now include the ability to create a great customer journey database and analyze the customer journey and optimize it accordingly.
Personalized Content:
Another remarkable feature that Sitefinity CMS offers is the option to create personalized content. Enterprises can easily choose to display the content that is based on the user visiting their websites. For every page, the Sitefinity web developers need to create a segment the visitors into the groups that are based on demographics, search terms and etc. That are used to reach the website. Once your segmented lists are created, you can easily proceed to define the website content that is to be displayed for each section. You can also measure the performance of the site for various segments of your visitors.
Security
Security of your data is also another major concern of your business or enterprise and Sitefinity CMS ensures that the security of the site data is always in check. As mentioned earlier, it allows the website administrators to custom define the user access to website functionalities and content and it is with the system audit trail that you can easily monitor the activities and also maintain transparency. Sitefinity CMS development ensures that its security protocols support the latest best practices and standards that include the Federal Information Processing Standards so that you can be confirmed that your website is secured.
Also Read: Ecommerce Sitefinity CMS Vs nopCommerce: a Brief Comparison