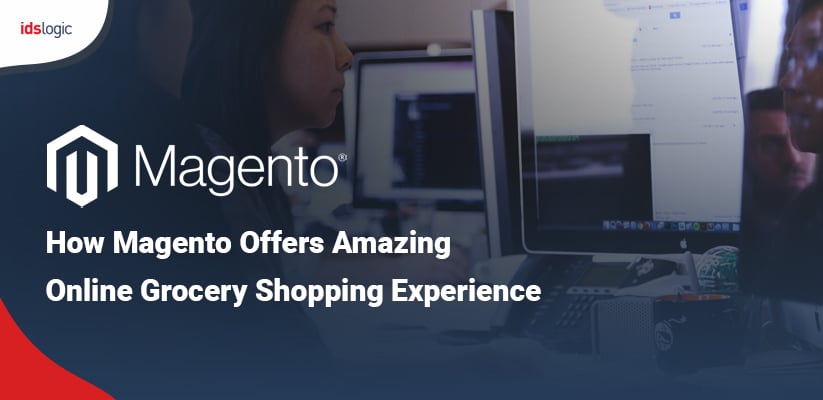 How Magento Offers Amazing Online Grocery Shopping Experience
In today's pandemic situation, with everyone maintaining social distancing and avoiding crowded places, shopping stores are considering online applications to deliver a wide range of products at door steps. Groceries are an indispensable part of life and it is something that everyone needs.
Online grocery websites have reduced the hassles for the shoppers as they have reduced the need to visit the physical stores to meet their daily needs. With most grocery shoppers opting to shop online and the number is likely to increase in future, store owners are switching to Magento development to create applications or online e stores to move to online selling.
Magento is considered to be one of the best ecommerce development platforms which have become a preferable choice for creating mobile apps too. With a series of features and functionalities, it meets most of the online grocery store needs as developers can use it to customize the features and offer secure payment gateway integration. 
Rich navigation features and the user friendly interface are some of the other benefits that can help you to create a good grocery e-store.
Convenient Features that Helps to Save Time:
Buyers can shop using the apps from anywhere and anytime. With Magento 2 development, grocery shopping will no more need to collect numerous products, stand in long billing queues or even carry heavy bags back home. This saves a lot of time and effort and such Magento mobile apps also help to simply browse the store and place orders and make payments and get the products delivered to their doorsteps for free.
Personalized Shopping Experience:
The best thing about creating a Magento grocery e-store is that it can help to offer personalized services based on the user behavior and preferences.  For instance when the customers are given notifications regarding latest offers or discounts, they can easily purchase the product.
Are You Looking to Hire Dedicated Magento Developers?
They can also view the virtual in stock inventory and at the same time avail the benefits of multilingual and diverse payment option, which are offered by the Magento ecommerce platform.
Business Growth for the Seller:
Investing in Magento ecommerce development opens up various opportunities for the growth of the business. It helps the sellers to win over loyal customers and establish a reputation for the brand.
Features like smooth navigation, multiple payment options, order tracking etc., makes Magento the favourite shopping destination for the purchasers. 
Push Notifications:
Loyalty brands invest in various promotional activities. Grocery mobile apps are often integrated with the push notification feature offered by Magento and this is received on mobile gadgets whether a user opens the app or not.
Also Read: Important Tips to Optimise Your Magento Ecommerce Store for High Performance and Speed
The messages are received on a daily basis and this includes the latest releases like discount coupons, offers and new products. Regular updates can also be sent via the Play Store, iTunes, window store, thereby keeping the user engaged and updated always.  This is also a great means to promote the products and services and increase both sales and business profits.
Offline Access:
Another most important advantage of developing a Magento grocery app is that it can operate offline. Mobile apps have the functionality to run offline with a single tap and the apps also offer content with the incredible feature like storing crucial data which can be easily accessed in an offline manner.
Not every user has a good internet facility and the shopping experience also remains the same even in offline more. Magento developer can easily integrate such features within the app and ensure that shopping can be done without an internet connection.
Also Read: Magento Ecommerce Customer Experience Trends in 2020