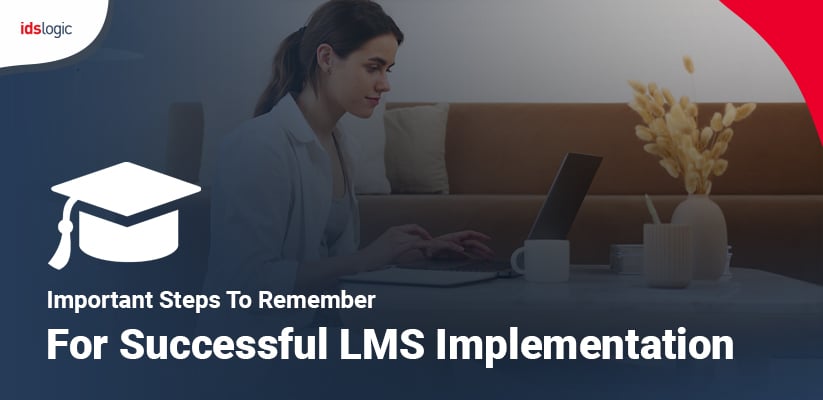 Important Steps to Remember for Successful LMS Implementation
In today's digital environment and the Covid affect, most academic organizations are turning to Learning management systems and investing in it so that they can continue with the learning process and act as a support to all the learners across the globe.
But irrespective of whether you are implementing an LMS for the first time or performing it as a major upgrade to the existing system, any inappropriate step may risk the resources and lead to extensive delays of implementation, spoil the user experience and generate unwanted outcomes.
So, while implementing an LMS, it is essential to follow some proven steps with attention to details for a successful outcome.
So, here in this blog, let's take a look at the proven processes that involve six important steps which will lead to a successful implementation of an LMS.
Planning:
Having a proper strategy in place, helps to know what to do and when to do. Though it may sound simple, but lack of knowledge and upfront planning without much thinking may not actually be the right choice.
It is crucial and not only at the outset of the project, but in case of LMS implementation, you should be prepared to face some new challenges.
A proper plan will help to deal with such issues and continuous changes in planning and refinements in the planning should be an integral part here.
Configuration
For organizations that are offering training to their employees, using an LMS platform that allows you to configure it to multiple domains is actually recommended and you can put the employee user account, internal training etc. and keep the customers and another set of administrators in separate domains.
Popular LMS development allows you to configure the audiences based on their profile information whole some LMSes may enable you to restrict the visibility of the courses that are set for the audience based on their training requirements.
Are You Looking to Hire Moodle LMS Developers?
Integration
There are organizations that offer training for some extended enterprises through their LMS application where they include a mix of customers, dealers, agents, suppliers and etc.
Many LMS products have functionalities to import the recurring data from systems and to manage everything properly, there comes a need for some third party module integration.
For example SSL is a popular LMS integration that is very helpful for multiple login detains of different systems within the company.
Migration
Another most important thing that you need to consider during LMS implementation is migration of the data.
All your training data and courses should be transferred from the legacy system to the new LMS and this involves the transfer of crucial information which can be a complex task during implementation.
Also Read: A Complete Guide to LMS Development
So to keep it simple, you must configure the sequence to transfer the information and identify and address any incompatibilities between the way the information and training material is stores and how it will be stored on the new LMS so as to avoid any loss of information or any other complications in the process.
Testing
User acceptance testing is also important for a successful implementation and it is here that your organization will test the overall working of the LMS application which is provided by the vendor. 
A complete user acceptance testing should be conducted to match the expected standard of delivery and with a thorough testing you are also satisfied with the LMS configuration and implementation.
So, it is important to pay attention to details and conduct a thorough testing of every part of the system.
Deploy or Go Live
The last step to consider for LMS implementation is to Go Live and this process needs attention in details and also demands the team to brainstorm on the various risks and also prepare a contingency plan to mitigate the risks.
Before going live, it is crucial to notify the course owners and the administrators of the date in advance as this will help them plan and schedule their important programs in accordance with the go live schedule of the new LMS.
Also Read: The Value of Online Assessment in LMS Development Solutions