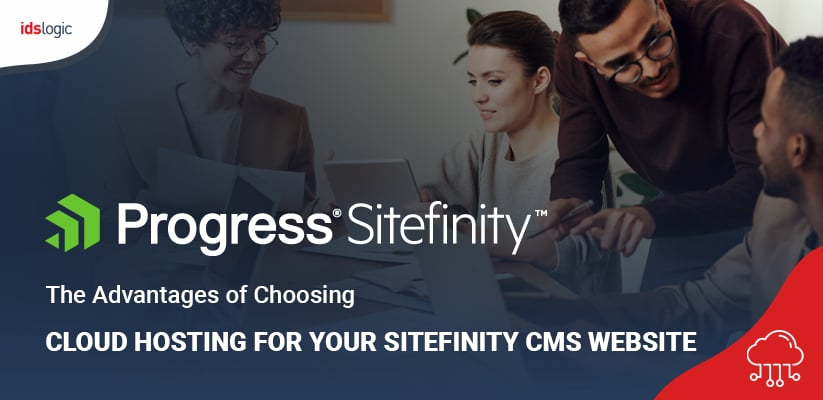 The Advantages of Choosing Cloud Hosting for Your Sitefinity CMS Website
Choosing a perfect system for your business is the most difficult task as you have to consider a lot of things to get the best result.
As you evaluate your CMS options, another most important thing that you need to decide is on how you want to host your CMS website.
Sitefinity is a popular CMS that comes with rich features and helps brands to present web content accordingly and have complete control on it.
Progress Sitefinity CMS supports cloud hosting and this has in fact made it easier for the organizations to concentrate more on the experience instead of the infrastructure.
Here in this blog, we will discuss we will discuss the advantages of Sitefinity cloud hosting so that you can take the right decision for your business.
Flexible Pricing Structure:
Most traditional hosting providers offer a monthly payment rate irrespective of whether you use all of the servers resources or not. But this is not so with cloud hosting and you only pay for what you use.
So, if you are expecting to post fresh content on your site and want to attract large amounts of traffic, then you don't have to completely upgrade your package.
All you need to do is to scale up your resources during the traffic surge and once the traffic returns to normal.
This flexible nature of Sitefinity cloud hosting helps to match both pricing and the total amount of server resources that you are using.
Redundant Server Environment:
Most web hosting service providers host a site on a single server and if something happens to the server, then you site goes offline and you are unable to get back online until the server issue is fixed.
But with cloud hosting your Sitefinity CMS website will have a concurrent live version of your site that your host can easily load without wasting much time and resource.
Also Read: When should You Choose Sitefinity CMS for Your Website Project: A Guide
High Uptime and Availability:
If you are using a traditional hosting for your Sitefinity website, then the site's uptime depends upon the physical server environment.
So if it goes offline, then your site will also be offline unless you are using a CDN which can help to reduce your website's overall downtime. 
With cloud hosting you will enjoy high uptime as your site will be virtually using the resources of multiple servers and can be easily transferred to any other server if any one goes offline or experiences any technical issues.
The ability to scale the server resources as per demands is also very helpful.
Are You Looking to Hire Dedicated Sitefinity Developers?
Fast Website Speed and Performance:
With cloud servers for your Sitefinity development website, you can enjoy blazing speed and in addition it will effortlessly increase your website's capacity and cloud hosting also allows for easier load balancing between multiple server environments that help to put less strain on a single server's resources.
The server hardware foundation also influences the speed of your site and so with cloud host, which has multiple caching layers, you can enjoy high speed and performance.
Also Read: Sitefinity Helps to Manage Data Marketing Easy for Website Owners
Easy Server Management Dashboard:
Earlier cloud servers were a little difficult to manage and that needed technical expertise to manage and scale your server effectively. 
But with cloud hosting today, one can easily keep a track of the hosting and then scale it as per demands via an intuitive dashboard. For this, you don't need any technical background or knowledge. It can easily be managed.