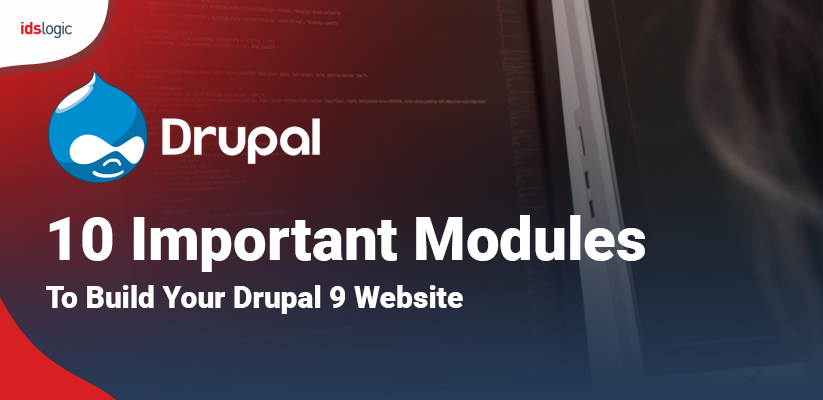 10 Important Modules to Build Your Drupal 9 Website
The launch of Drupal 9 was long-awaited. It gets finally released on 3rd June, 2020. Businesses are making the most out from its amazing Drupal solutions.
With myriads of Drupal modules available, it becomes quite difficult to decide which one to choose. You should any module after assessing your business needs. You can even consult a leading Drupal module development company to help you in picking the one that aligns with your business interests.
Top Drupal 9 Modules You can Choose for Website:
Token
This module offers tokens that do not supported by the core and UI for browsing tokens.
Admin Toolbar
This module is useful in improving the admin menu at the top of your site, and converts it into a dropdown menu. It makes the access to admin pages a lot simpler.
Metatag
This module provides structured metadata of a website. It also offers extended support to metatags which gives complete control over how your content will appear while sharing it on social networks.
Are You Looking to Hire Dedicated Drupal Developers?
Pathauto
With this module, you can create patterns for your content. It can also create a URL for various types of content automatically. This eliminates the need for the users to create manually.
Redirect Module
This module comes with various interesting functions such as manual creation of redirects, maintenance of the colonial URL for different kinds of content.
Moreover, you will get a common API to load, save, and deleting redirects. It also offers case-sensitive redirect matching along with a hook for allowing other modules to reduce the candidate redirects.
Paragraphs
Using this module, the site builders can make things cleaner and organized. This provides more editing power to the end user. It provides 'paragraphs' field type that can add a new paragraph field to your content, and opt for the paragraph type that will be available to the end-users. You are even allowed to include custom option fields where you can perform confidential coding in your CSS.
Also Read: Reasons Why Drupal Development should be Used to Create Government Websites
Twig Tweak
This module comes with a twig extension that is helpful in enhancing the development experience.
Seckit
This module is used to modify specific HTTP headers on your website to increase its security. You can enhance security in many other ways. But security modules make it more convenient. It has multiple security hardening options that minimize the risk of website vulnerabilities.
Configuration Split
This module outlines sets that will exported to various directories and will be merged together while exporting.
Also Read: Tips to Prepare for Installing the Latest Version of Drupal 9
Simple XML Sitemap
This module is required by webpages for the SEO reasons. It also builds a multilingual sitemap for custom links, entities, and views.
It will create multiple custom sitemaps using a sitemap generator along with URL customization.
Final Thoughts
After going through all the aforementioned modules, it has now become easier for you to decide which one is best for your Drupal website. Along with module selection, it is important to pay attention to the Drupal maintenance as well for enhancing the security of your website. You should look for a trusted service provider that will make your website updated with the latest security features.