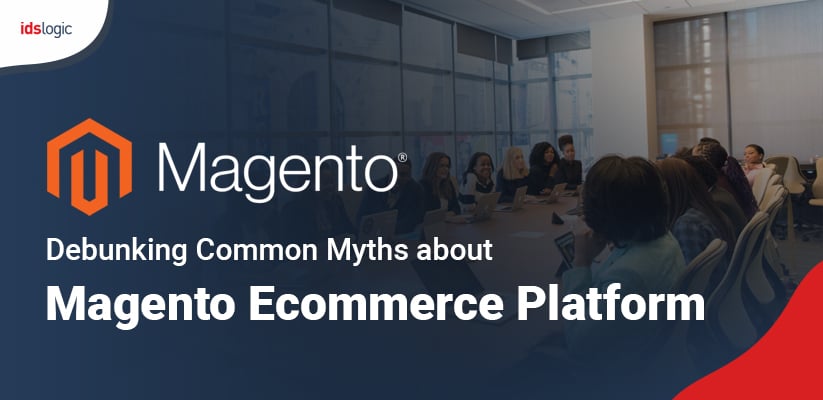 Debunking Common Myths about Magento Ecommerce Platform
Whenever something gets immense popularity, people tend to talk about it more. It's a common phenomenon. The ecommerce industry is no different, and with a plethora of CMS is getting popular among ecommerce store owners, it would be safe to say that a theme, an extension, or the plug-in will also get recognition for sure.
Magento is one of the leading ecommerce platforms that have become the favorite of the ecommerce store owners. In spite of being in the good books of the people, there are some misconceptions about this platform. We are going to debunk them all one by one through this post. Let's check them out:
# Myth 1- Magento is slow in speed
Whether you plan for Magento migration or upgradation, this is the most common myth that you will hear. People believe that Magento lacks in speed as compared to its contemporaries like Joomla, Drupal, WordPress, etc. However, they don't realize that the CMS performance depends on a variety of factors. It is not always about the features and functionalities of the platform; it is important to consider the hosting as well as different themes and plug-ins has to be optimized.
If Magento is that slow, then market giants like Nike and Adidas would have never opted for this platform. Magento developers are consistently optimizing this platform, and with every update, it is getting faster.
# Myth 2- Magento is completely free
If you look at Magento from the core, then it may appear to be free and open-source. But, slowly you will realize that for building an effective ecommerce store, you will have to get a paid "enterprise version". This will cost you more, but it will make your store look classy and ensures high-grade performance.
Are You Looking to Hire Dedicated Magento Developers?
Even in case of its free version, you have to buy themes backed by extensions and other tools to build a fully-functional ecommerce store.
# Myth 3- Magento is suitable for large-scale businesses only
Did you know that 25% of online stores are built using Magento? Yes, you read it right. Adidas, Nike, Samsung, etc. are amongst them. These giants are proving this myth to be true, but the reality is way more different.
Magento is a flexible CMS that can be scaled as per the business size and requirements. That's why it is super-suited for any business size- big or small. But, one thing that you should know is what your business needs are. Once you have cleared in understanding your business goals and objectives, you can deploy Magento platform.
Also Read: Top 5 Magento Ecommerce Development Trends in 2021
Final Thoughts
So, we have debunked some of the common myths about Magento ecommerce platform. The reason why so many misconceptions are taking place is the ever-rising popularity of this platform. But, now you have understood that all these are completely bogus.
Whether you want to build an ecommerce store from scratch or wanted to upgrade it, we recommend you to choose Magento platform. You can search for a trusted service for Magento upgradation to make your store up-to-date.
Also Read: Prepare Your Online Store For A Successful 2020 Holiday Season With Magento Commerce 2.4.1