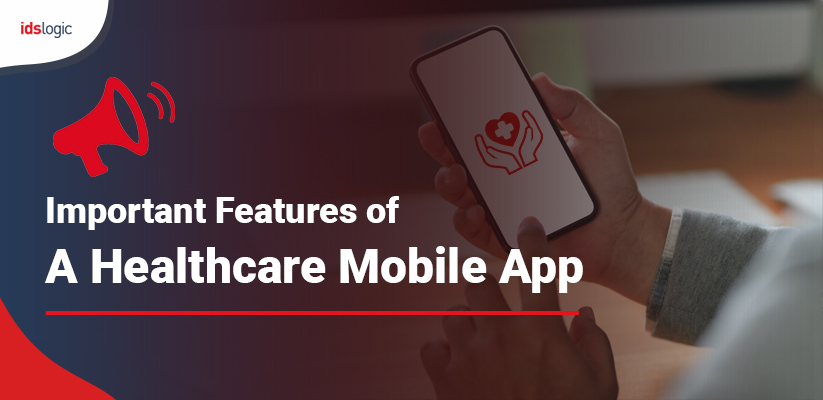 Important Features of a Healthcare Mobile App
Nowadays, technology has become an indispensable part of our lives, and the healthcare industry is not far behind. This industry has brought a significant difference in our lives, and it is consistently growing with each passing day.
In the era of smartphones, mobile apps are ruling the world. This has already created a buzz in the healthcare industry. You will easily find variety of healthcare apps in the app store. If you are in this realm, then it becomes necessary to invest in mobile app development to sustain your position in the market.
Benefits of Healthcare Mobile Apps
The healthcare mobile apps come with a host of benefits that are listed below:
Provides ease of medicine availability to the patients.

An expert advice is always available online.

Healthcare apps are intuitive, reliable, and handy.

They act as an effective source of information for the patients.
No healthcare business can deny the fact that these apps are dominating the app stores. More and more pharmaceutical companies are investing in such apps as they maximize business revenue and profitability.  
Must-have Features of a Healthcare Mobile App
Within the healthcare mobile apps, tools like CRM, IoT, cloud computing, etc., are properly integrated. However, there are some features that are vital to have in professional healthcare apps. To provide you a gist about them, we have compiled down the features list:
Easy Registration & Login
Registration and login are the foremost steps that initiate interaction with patients and doctors. Make sure that the sign up process is easy for the users. They can register by filling their personal details like name, contact number, email id, etc. Above all, there should be less number of steps involved. The same applies for the login process.
Are You Looking to Hire Dedicated Mobile App Developers?
Profile Access & Modification
The profile creation has to be simple and handy. Users can upload their photos or any other information that they wanted to share. They should be allowed to update their information at anytime from anywhere. In case of doctors, all the important information has to be present like their experience, specialty, clinic address, contact numbers, and a lot more.
Search & Doctor Consultation
A healthcare mobile app should have a smart filter search option. This helps the users to filter the doctors based on their experience level, consultation fees, reviews, location, etc. This aids in getting relevant results in less time. After shortlisting, they can easily book an OPD consultation with the selected doctor.
Also Read: Popular Payment Mobile Apps which Make Transactions Easier in 2020
The doctors should have authority to accept or deny consultation requests ((if any reason). If a doctor accepts the request, the customers will receive confirmation/notification mail along with ID.
Multilingual & Cloud Management
A healthcare mobile app should allow users to operate it in their native language. This feature is helpful in giving a gist about the services to the patients. Beside the multilingual option, all the data should be stored in the cloud. Precisely, the medical reports, previous medical history, appointments, and other patient details can be accessed by the patients without any difficulty.
Also Read: Important React Native Databases that Developers may Use in 2020 for Mobile App Development
Final Notes
To make your healthcare mobile app a great success, it is crucial to add all the aforementioned features. Those who already have a healthcare app, it is important to keep it updated with the latest development in mobile app trends to get a competitive edge in the market.