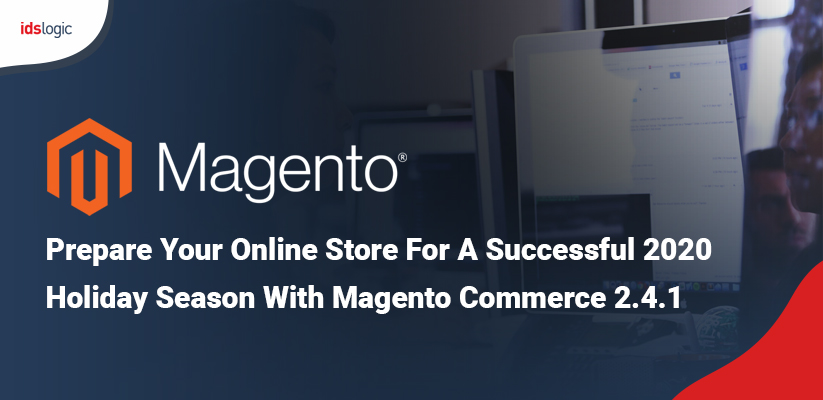 Prepare Your Online Store For A Successful 2020 Holiday Season With Magento Commerce 2.4.1
The holiday season is just round the corner. With this, millions of online shoppers will be looking for the best deals on the web. As COVID-19 cases continue to rise, it has driven a surge in online holiday shopping. Considering the current scenario; people are enjoying virtual shopping rather than visiting the stores physically.
Since there will be a wave of online shoppers, it will come up with more challenges for the merchants. They have to ensure that their sites perform well and are optimized for great customer experience.
There are also chances that your website could drive malicious players during this busiest time of the year. This can take a toll on the performance of the website. Clearly, it has become imperative to address these challenges than ever before.
That's exactly what we are doing here. Adobe has recently released the latest versions of Magento ecommerce and Magento Open Source (2.4.1). These are equipped with advanced security features and enhanced tools that aid merchants to update their websites continuously with new content, imagery, and promotions. Magento ecommerce 2.4.1 provides an incredible opportunity for a successful 2020 holiday season.
Here is a List of Recommendations You must Adopt to Prep for the Upcoming Holiday Season:
Secure Your Magento store
With the latest 15+ security updates and bug fixes (in information disclosure and SQL injection), Magento 2.4.1 and 2.3.6 have now included CAPTCHA in order placement and WEB APIs endpoints related to payment information.
Also Read: How Magento Offers Amazing Online Grocery Shopping Experience
The latest updates reduce the carding fraud attack which merchants and shoppers become victim to. Adobe is working relentlessly to make things simpler for 250,000+ Ecommerce stores on the Magento platform by releasing new updates. This helps in fixing any vulnerability related to the platform.
Enhanced & Secure B2B Experience for Buyers & Sellers
Magento ecommerce 2.4.1 has extended the B2B capabilities with its advancement in domains like shipping options, cart management, security, and payments. B2B buyers can reap advantages from personalized shipping methods, speedy requisition list creation, and workflow usability enhancements. In addition to this, they can easily add an entire cart or individual products in a requisition list. This allows creation of order templates faster.
On the other hand, B2B sellers will be benefited by using payment on account payment method while creating orders in the Admin. Filtering customer information and checking their complete purchasing history is possible with admin enhancements. Lastly, Google reCAPTCHA has been added in the New Company Request form which minimizes the creation of fraudulent accounts.
Faster Content Creation & Enhanced Storefront Experience
The holiday season has begun much earlier than before, and shoppers are searching for the best deals online. This creates the urgency for merchants to come up with fresh and unique content for their websites and attractive discounts to engage them. Magento ecommerce is equipped with tools and features that merchants would require staying abreast with the rapidly evolving market situations.
Are You Looking to Hire Dedicated Magento Developers?
New Media Gallery
In the last quarter, Magento has introduced a redesigned and improved version of Media Gallery. Magento team is committed towards delivering the robust tools for image and asset management, thus saving ample time and resources for creative stakeholders.
Magento 2.4.1 is enabling Media Gallery by default and offers functionalities that will be helpful for content creators to manage, edit, and search images faster. Some more enhancements include bulk image operations support, new filtering options, custom metadata, just to name a few.
Ending Thoughts
All the aforementioned recommendations should be the top priority for Ecommerce stores when attempting to maximize sales performance. Just implement these things in your online store to make it ready for the holiday season.
Also Read: Important Tips to Optimise Your Magento Ecommerce Store for High Performance and Speed