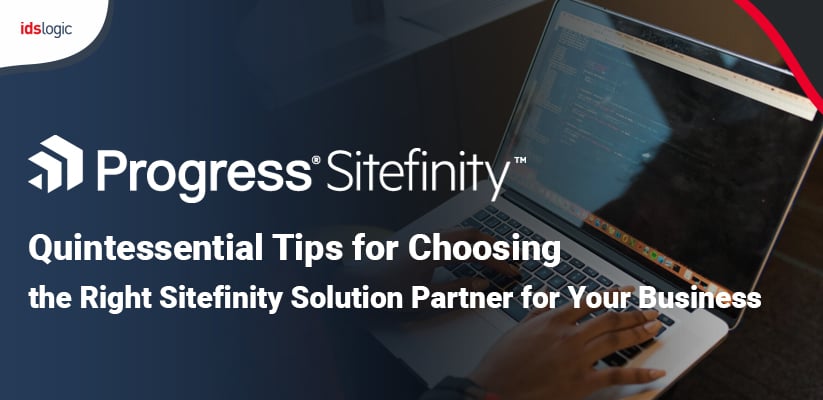 Quintessential Tips for Choosing the Right Sitefinity Solution Partner for Your Business
Today, CMS has become an indispensable part of business websites and opting for the right one for your website is important. With myriads of CMS available in the marketplace, picking the right platform and appointing the proficient developer to create your website may be a complex part to do.  It would be better to look for a trusted CMS development partner who will work with dexterity to deliver your project within a stipulated time frame.
Finding a reliable partner will require following some tips, and here in this post, we will discuss useful tips to choose the best Sitefinity solution partner.
Sitefinity is a renowned CMS that provides amazing features for businesses searching for effective multisite management and personalization capabilities. And for creating a robust and quality website, you need a good development partner.
What You Should Look for in a Sitefinity Solution Partner?
Just like every business has their distinct needs, every CMS comes with different features to cater them well. With Sitefinity development, you can do a variety of things for your business. If you want to build an ecommerce website, then it is crucial to look for a Sitefinity development partner having rich exposure in handling challenges that come up with creating ecommerce website.
Reliability & Credibility
A part from technical competency, you should ensure that the development partner is trustworthy. We recommend you to check online reviews about the company to know about their supremacy in work. Your selected partner should exhibit professional integrity. Most importantly, you should sign an NDA agreement before starting a partnership.
Are You Looking to Hire Dedicated Sitefinity Developers?
Your chosen development partner should offer flexibility to work on your project, and have the expertise to tackle development projects from the scratch. So, always look for a partner with remarkable technical and analytical ability who properly understand the business objectives well. They provide flexibility while switching job requirements and can customize things as per your requirements.
Also Read: Get to Know about the Personalisation Options in Sitefinity CMS
Another important point that you should not miss out is the willingness of the development partner to go extra miles to help you with the project. Although, it would be difficult to judge in the initial phase of the project, but try interviewing developers. Of course, don't forget to check the company's track record before signing a contract.
Conclusion
Whether you want to get a site developed from scratch or looking for Sitefinity upgradation, you should choose a development partner wisely. Make sure that you consider all the above-mentioned points in your decision making process.
Also Read: The Advantages of Choosing Cloud Hosting for Your Sitefinity CMS Website