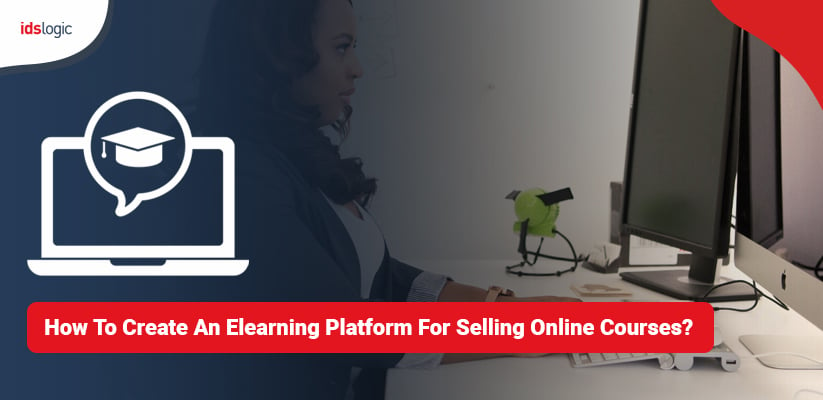 How to Create an eLearning Platform for Selling Online Courses?
Are you learning how to create an eLearning platform? It is best to opt for custom eLearning development if wanted to develop an eLearning platform like an education marketplace. Those who don't know how to start while building an eLearning platform are advised to read this comprehensive post.
Selecting an Online Learning Platform
If you have plans for eLearning portal development, you will have two choices. First one is building a new system and other is customizing an existing one.
You can opt for building a new system for eLearning if you want:
Scalability-

If you want huge user base for your products, then you have to design the architecture and code structure to make it ready for the heavy load.

Distinct Features- A project that is deploying rare features such as artificial intelligence or virtual reality should be designed from scratch.
Budget Constraints- Building a whole new eLearning system is expensive and takes a lot of time.
You can customize an existing eLearning platform if you have:
Low scalability requirements-

The LMS will have features that will be more for your product. This results in making the customized solutions difficult to scale.

Distinct Process-

An eLearning project will differ from the competitors only by the teaching methods would be simple to implement by customizing an existing solution.

Limited Budget-

An existing LMS will be equipped with all the necessary functionality for the learner and instructor. This helps business to save cost of the development.
Are You Looking to Hire Dedicated Moodle Developers?
The process of eLearning development will consists of the following steps:
Preparing a detailed specification consumes a lot of time. But there has to be a set of basic requirements so the team knows what they have to work on.
It involves organizing and drawing the product's visuals.
Within this stage, the programming part is being performed.
This involves the inspection of the product to ensure that it performs without any glitch.
After making the product live, it's time to get feedback and add new features.
Instructional Design
The learner experience is vital for the custom eLearning project. And, their center point is the dashboard which should offer courses, stats, and other features easily accessible. You should adhere to company's style guide and adapting the course design that will reinforce your brand. This in turn makes the learning experience more interesting. Make sure that the custom lessons should be crafted in a way that doesn't distract the learners.
Also Read: Designing Tricks to Follow while Creating a Moodle Course
Gamification
Gamification consists of the elements that encourage users by making learning process a lot more fun. The approach provides efficient results and is widely used by the large eLearning companies.
Here are some of the striking features:
Progress bar-

It shows the chapters that has been covered by the learners.
Badges– These are used as rewards for achievements.
Leaderboard– It allows learners to compete with their friends.

In-app currency-

This has to be spent on the bonus lessons.
Duolingo app is one of the finest examples of educational apps that are bestowed with these features. If you are looking to develop an app like this, then you should look for a reliable LMS development company.