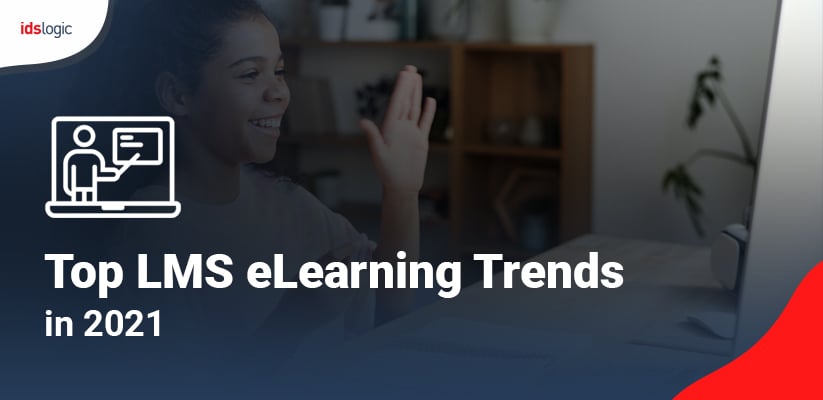 Top LMS eLearning Trends in 2021
Over the years, the eLearning industry has received a good momentum. With its inception, eLearning has made the face-to-face training outdated. It has been predicted that eLearning industry will touch $300 million in the coming years.
There is no denying the fact that eLearning industry has witnessed drastic changes in a few years.  Today, there are lots of eLearning trends that are offering benefits to the people associated with educational and eLearning sector: saving costs, resource optimization, or training flexibility. Additionally, the experts have also predicted many benefits for tech-savvy millennials from the advancement of eLearning solutions.  
Top eLearning Trends in 2021
Mobile Learning
Mobile phones have become an indispensable part of our life. It has provided us different facilities to make our lives a comfortable one. As per the survey, it has predicted that the number of mobile users will reach 7 billion in 2021.
In such case, mobile learning is expected to gain huge popularity in the coming years. With the rise in mobile users and mobility solutions advancement, mobile learners are increasing at a tremendous rate. More and more people have started adopting mobile learning platforms. Its significant advantages include flexibility, ease of learning, performance tracking, and many more.
Gamification
This is one of the best LMS trends to look out for in 2021. It's a completely new concept in the eLearning and education sector. To make the learning process more enjoyable for the learners, game and fun elements are added in the learning modules.
The game-based learning approach has helped enterprises to provide successful training results with lots of advancements. Considering its rapid growth and popularity; this trend is here to stay for long.
Are You Looking to Hire Dedicated Moodle Developers?
Social Learning
Social learning is an important part of the eLearning industry. This is yet another trend that has gained immense popularity in the last few years. Within this approach, the people share their learning experiences with social media, so others can read them and make an effective use out of them to enhance their skills.
Also Read: How Log Reports Help to Track Student Activity in Moodle LMS
This trend is promoting the concept of anywhere learning which means that it will not be confined to a single room.
Growth of Disruptive Technologies
Thanks to the rise of disruptive technologies, our lives have become much simpler than a few years back. The disruptive technologies like AI, ML, AR, and VR have made it a lot easier for the core industries worldwide. ELearning is one such industry that is making the most out of these technologies.
Since these technologies are in their initial stages, it becomes easy for the learners to progress their tracking and learn effectively. Additionally, with further development in technologies like AR and AI, the eLearning industry is expected to witness many benefits in the long haul.
Also Read: Why Your Moodle Mobile App Needs a Good Branding Strategy