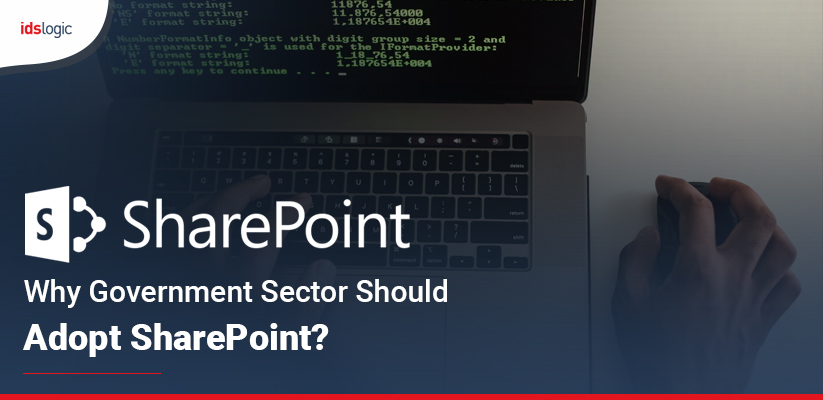 Why Government Sector Should Adopt SharePoint?
SharePoint is a renowned collaborative platform that is useful in streamlining the business process. Almost every sector has deployed it, and reaping maximum benefits from its usage. The Government sector is no different. This platform has the capability to cater to various business needs with an efficacy, and that's the reason for its immense popularity.
In this post, we have discussed the compelling reasons why the Government sector should choose SharePoint development. Let's skim through them:
Intuitive SharePoint Portal
One of the striking feature of SharePoint is that it comes with an interactive portal. That means building a Government portal using this platform will provide user-friendly and visually appealing results. This has encouraged the Government agencies from all over the world to opt for this platform for creating their portals.
While choosing any collaborative platform, the cost plays a vital role. The combination of Office 365 suite and SharePoint online is the favorite of the Government agencies as it is quite affordable. If their requirement is limited, then they can opt for the SharePoint alone.
Automation of Data Processing
Data management is a cumbersome task for all businesses. When it comes to the Government sector, the agencies have to deal with a lot of documents. SharePoint comes with an excellent optical recognition software that scans the uploaded documents to the libraries. Not only this, it detects geolocation data and includes meta tags within the content to enhance the search potential.
Are You Looking to Hire Dedicated SharePoint Developers?
In-built Robust Security Facility
Security is the topmost priority of the Government agencies. If they have suffered due to the security breaches in the past, then they become extra cautious about the security factor. SharePoint thoroughly performs the malware scanning of the documents that are uploaded to the libraries.
In addition to this, SharePoint allows network access to a particular IP address, and leverage the sharing capabilities to the users outside and inside the Government agencies.
Also Read: Empower Your Business with the Help of SharePoint Development
Third-party Integration Option
SharePoint provides third-party integration support to the users. If in case, the Government agencies plan to integrate with GRP system, then they can do it without any hassle. This merger provides double benefits to the Government agencies, which is helpful in their smooth operations.
A part from the document management, integration support, and advanced security feature, SharePoint is extremely helpful in the seamless project management, which ensures its overall success. Just search for an eminent SharePoint development company to get a fully-functional SharePoint portal developed for your business.  
Also Read: How to Increase User Adoption of Your SharePoint Intranet?