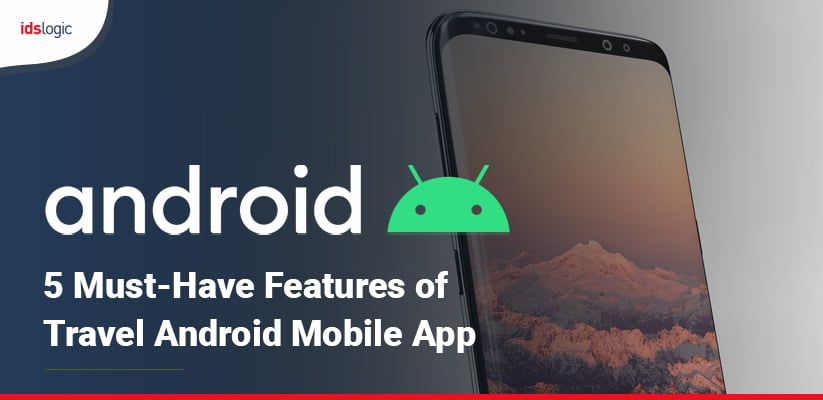 5 Must-Have Features of Travel Android Mobile App
Mobile apps have become a vital part of our lives, which simplifies day-to-day activities.  The dependability has reached a point where it becomes hard to imagine our life without mobile apps. Whether you need to book a trip or order a food, there is an app for everything. That provides a lot of convenience to us.
Almost every sector is making the most out of the mobile apps, and travel industry is no different. With different kinds of travel apps in the market, it has become easy for the travelers to plan their trip with an ease.
Striking Features of a Travel Android Mobile App
If you are thinking of building a Travel Android mobile app, then you need to find the best Android app development company first. After that, you need to have one-to-one conversation with the app developers for the features that you would like to have in your travel app.
There are few features that every travel mobile app should surely have. In this post, we have discussed about them in detail:
Unarguably, GPS is effective in searching for the different locations faster. When travelers have to find nearby hotels or local attractions, the geolocation service would be of great help in this context. So, it is must to have a GPS tracking facility in your travel app for finding the destination.
Building a travel itinerary is the difficult part for any traveler. This requires careful attention as on one wants to miss out the popular attractions of the place. With travel apps, you can reduce this burden as it comes with an itinerary builder, which will create a travel plan automatically to suit your requirement.
Are You Looking to Hire Dedicated Mobile App Developers?
While travelling abroad, the biggest problem for the travelers is the language barrier. To combat this issue, you should ask for your Android app development experts to include the language translator feature in your travel app. They can travel places with the help of this feature.
Social media integration is one such feature that you can't afford to miss in your travel app. When people travel places, they prefer sharing experiences on social media. Therefore, social media integration in your travel app will increase your business exposure online.
Also Read: Top Android Development Trends to Look Forward in 2021
Today, the app users look for a secured payment gateway for flight and hotel booking. With the help of this feature, they can easily check the tickets and hotel rooms availability, ongoing discounts, and a lot more.