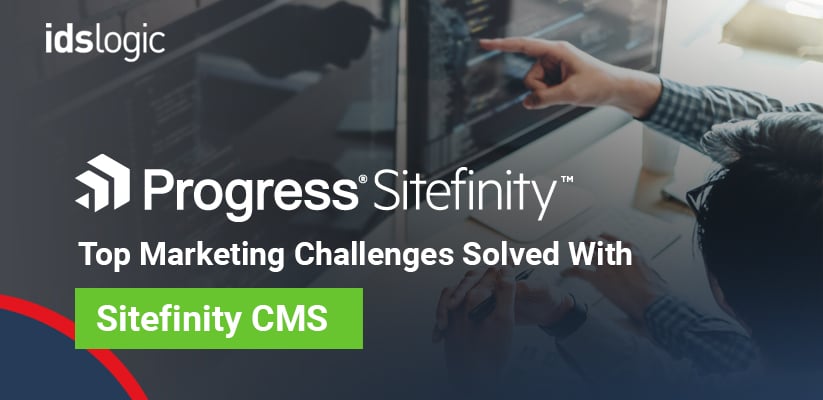 Top Marketing Challenges Solved With Sitefinity CMS
Today, every marketing team faces problems related to collaboration, communication, and achieving the desired goals within an organization. Thankfully, Sitefinity CMS is there to resolve all these problems with an efficacy.
Due to this specific reason, Sitefinity has become the topmost choice for the leading organizations. They have successfully deployed it in their business operations, and reaping exemplary results. If you haven't invested in Sitefinity development, then now is the time to do so.
Here are some marketing challenges that Sitefinity CMS solves:
People love content that is unique, relevant, and engaging. On top of that, it solves their pain points faster. Without having a robust and collaborative content management system in place, marketing team faces less engagement owing to the less content production.
Sitefinity win over this problem very well. It leverages the marketers with user-friendly content creation, inline editing, drag and drop layouts to speed up the content process, and provides lesser time to market.
Every month the marketing team has provided with a target to generate leads to achieve optimum revenue. All the responsibilities to create content that drives significant traffic and sales is on their shoulders.
With the help of marketing automation and CRM tool integration, Sitefinity converts more leads with analytics to provide useful insights to the marketers.
Also Read: The Significance of Keeping Your Sitefinity Website Up-to-Date
Multiple Sites & Channels Management
With multiple sites and channels, marketing projects have a global reach. The deployment of multiple system for finishing the tricky projects will hamper productivity, and stop businesses in achieving their set goals.
Sitefinity is great for the purpose of multisite and multilingual content management. It provides headless architecture, APIs, and analytics for the content to reduce the complexity level of the projects.
Are You Looking to Hire Dedicated Sitefinity Developers?
To increase traffic on the website, it is important to keep the content as per the SEO trends. Your ranking will automatically drop if you don't attention towards this aspect, which eventually results in less conversion rate.
When you use Sitefinity, you will get the complete control of the on-page SEO keywords, titles, and descriptions to enhance search engine rankings.
Look for a Trusted Sitefinity Development Partner for Successful Deployment
To solve your marketing challenges, Sitefinity CMS is an effective option to go with. You can implement it in your business operations, and make the most out of this CMS. Choose a trusted Sitefinity development partner to include in your operations in the right way.
Also Read: Reasons Why Sitefinity is the Best Enterprise Content Management System