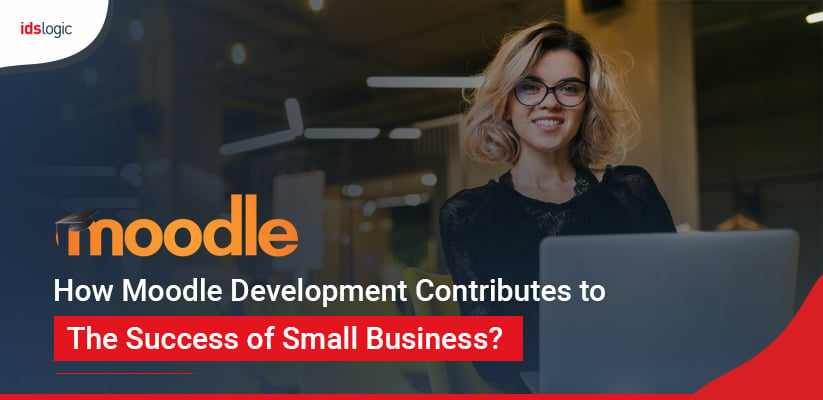 How Moodle Development Contributes to the Success of Small Business?
Within the competitive business ecosystem, it has become imperative for the organizations to stay ahead of the tech curve, and contribute in the development of the employees. Moodle is a popular LMS that can help in the process of employee training and learning.
 Benefits of Moodle Development for Small Business
Maintains Learning Material & Data in One Location
The training material is something that has high risk of missing. Some might be present in physical formant while others in digital form. This could be problematic for the employees to maintain the data in both the formats.
With the help of Moodle, you can keep the all the learning material and data in a single location. This in turn reduces the chances of the data loss.
Keep Employees Updated with the Products & Policies
When small businesses have to update their employees about the new product launches and policies, Moodle will be of great use in this context. It allows companies to create modules of the various features of your products, and let them share amongst the employees.
As a result, it will help your employees in developing a better understanding about your service offerings.
Are You Looking to Hire Dedicated Moodle Developers?
Tracking Employees Progress
Employees have the advantage of accessing Moodle course from any location at any time. This gives them a fair opportunity to learn as per their own convenience without thinking of the time.
Organizations can easily tack the progress of the individuals within the department, and provide their valuable feedback so they can work on improving their skills.
Also Read: How to Find the Best Moodle LMS Development Company for Your Next Project?
Enhances Customer Service Experience
There is no doubt that training is a challenging process for the organizations. But, without proper training, the employees will not be able to deliver the best results.
When employees will have deeper knowledge of the tools and technologies, they will be able to deliver the qualitative services to the customers, which eventually leads to a better customer service experience.
Building a Moodle-based course requires the assistance of the Moodle developers who have ample experience in creating such type of courses for the organizations. Just take a look online to find the best professionals for your Moodle development requirements, and choose the right one for your business.
Also Read: What are the Advantages of Using Moodle Mobile App?