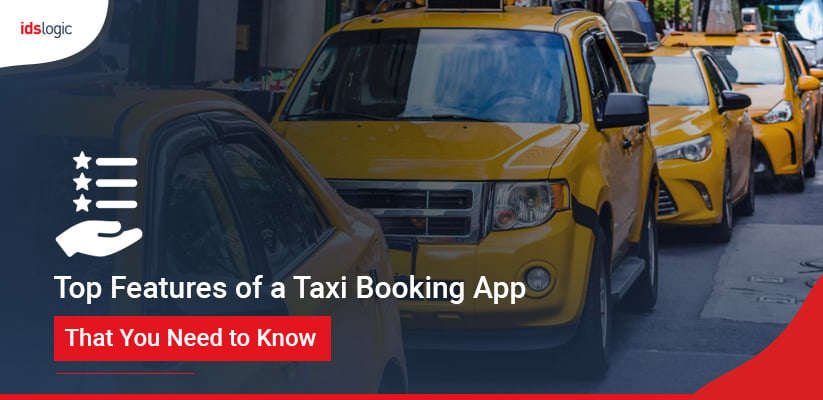 Top Features of a Taxi Booking App That You Need to Know
Nowadays, a taxi booking app has been majorly used throughout the world. The reason being is simple that it provides a lot of convenience to the people while travelling from one location to another. The best part is that they can easily book a ride anytime.
A taxing booking app comes under the category of on-demand app that provides instant cab service to the customers. If you want to build an app like Uber, Ola, etc., you have to consult mobile app development company that have prior experience in creating an app like this.
Some Must-Have Features of a Taxi Booking Mobile App
To make a successful taxi booking mobile app, it is important to integrate certain features. In this section, we have shed light on the absolute-must features of taxi mobile app. Let's take a closer look at them:
Choosing Pick & Drop Location
One of the main features of a taxi booking app is that it should allow the users to choose pick and drop location or it auto detects the location. This will help the drivers to know where the customers want to go. By knowing the travelling location, it becomes easy to estimate the time and cost of your ride.
Ride Confirmation and Cancellation
Another important feature is that your taxi booking app should have ride confirm and cancel button. Once customers choose their pick and drop location, they have to confirm the ride by clicking on the "confirm" button. In case, if their travelling plan changes at the last moment, they can click on the "cancel" button for the same.
Are You Looking to Hire Dedicated Mobile App Developers?
Picking the Vehicle Type
The next feature in the list is the ability to choose the vehicle type by the customers. There are lots of vehicle types availability like sedan, bikes, van to name just a few. As per their requirement and budget, they can choose the one that will suit your purpose well.
Live GPS Tracking Facility
This particular feature is helpful for the drivers to find the right location on time. They can easily track the route while on their way to the destination. With the help of in-app map integration, both the drivers and customers can find the safest route to reach to the final point without any hassle.
Also Read: Reasons to Choose Android Platform for On-demand Mobile App Development
Share a Feedback
Feedbacks are always a great option to make the services even more better. With the help of this feature, both the customers and drivers can share their valuable feedback about their riding experience.
Hire mobile app developers who have maximum exposure in building taxi booking app, and can successfully integrate all the aforementioned features in your app.
Also Read: How Mobile Apps Are Transforming the Digital Healthcare Services?