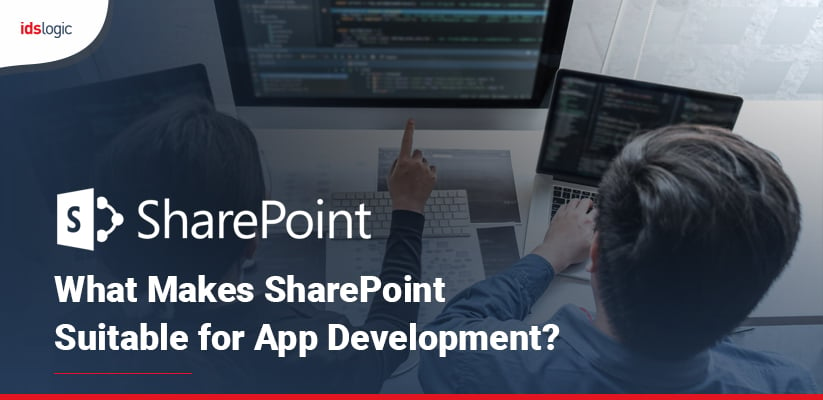 What Makes SharePoint Suitable for App Development?
SharePoint is considered as a reliable collaboration tool that has simplified the business operations, and boost efficiency while working remotely. Fortune 500 companies have deployed this tool due to this specific reason and attaining effective results with this decision. Precisely, SharePoint development has helped businesses to enhance operational excellence.  
Now, SharePoint has become a reliable option for the app development. It aids the development team work in a collaborative environment by sharing information at the right time. A part from that, it has remarkable document management functionality that makes them to store documents in an organized way.
Reasons Why SharePoint is Ideal for App Development
SharePoint tool comes with all the relevant features and functionality that one would require for the overall success of your mobile app development project.
In this post, we've discussed the top reasons that makes SharePoint apt for the app development. Let's take a closer look at them:
Excellent Customization Capabilities
With SharePoint, you will get advanced tools that will be helpful in the development of mobile apps. It aids the project development team to build flawless, customizable, and feature-packed mobile apps that runs efficiently on all the leading mobile platforms. Look for the SharePoint developers who have a proven expertise in build customizable mobile apps.
Are You Looking to Hire Dedicated SharePoint Developers?
Promotes Collaboration
To ensure the success of the mobile app development project, it is imperative to regular point of communication. Thanks to SharePoint, this can be achieved very well as information and knowledge sharing becomes simpler. This proves to be valuable for the mobile app development process.
Easy to Use
SharePoint is an intuitive platform that makes it the top favorite of the developers to build high-performing apps and the websites as well. Businesses that are running multiple websites can consolidate them effectively with the help of this tool. This will provide more productive results for the betterment of the business.
Also Read: How to Enhance Business Operations Using SharePoint?
Builds Secure Platform
Maintaining data security and integrity are the topmost concerns while performing app development. That's the reason why you project development team should SharePoint. It comes with advanced security features that will safeguard all your project related data from unauthorized access.
There are many top-rated SharePoint development companies that you can consult for the deployment in your business process. This will help you to boost the overall mobile app development process. Just browse through the web to dig out the best search results faster.
Also Read: 5 Challenges Faced While SharePoint Online Migration