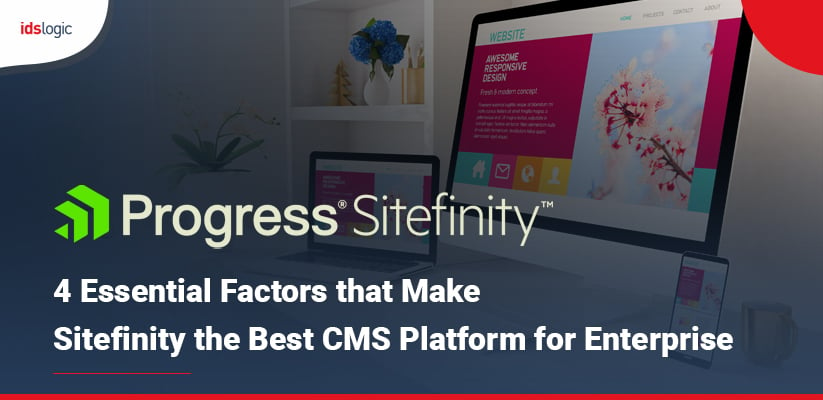 4 Essential Factors that Make Sitefinity the Best CMS Platform for Enterprise
Sitefinity is a renowned content management system that is empowering millions of websites with its robust feature set. It has remarkable content management capabilities that leverages the business to create, edit, and manage the website content with minimal efforts.
Owing to its potential to meet all the modern needs of the enterprise with an efficacy, more and more businesses are investing in Sitefinity development. With this decision, they are reaping positive business outcomes in the form of better user experience and higher traffic on the website.
Here, in this blog, we've shared the top factors that make Sitefinity the most suitable CMS for enterprise. Just take a look at them to know more:
Smooth Integration
With Sitefinity, you will get amazing integration choices. Whether it is about creating attractive custom emails for marketing purpose, detailed product catalogue, or adding secure payment gateways, this CMS can do it all.  Apart from that, it allows us to harness the potential of social media by integrating it to the website, so we can engage with the customers in a better way.
Are You Looking to Hire Dedicated Sitefinity Developers?
Mobility
Mobility is a strong factor to consider owing to the rise in the usage of mobile devices all across the globe. The good news is that Sitefinity creates responsive web design that adapts easily with the screen size of mobile devices. Thus, it helps in rendering an enhanced user experience.
SEO-friendliness
Sitefinity lets the developers to create SEO-friendly website without any hassle. You can build SEO-friendly URL, meta titles, descriptions, and tags for the web pages. This will be useful in increasing the indexing of your website on the major search engines, and you will get maximum visibility online.
Also Read: How to Find the Proficient Sitefinity Developer for Your Project?
Easy Website Management
Sitefinity is popular for its features like digital asset management that is effective in the file management. It allows tagging and uses metadata to improve the findability of the files. This saves a lot of time for the users which usually gets wasted in searching for the documents and files.
In short, Sitefinity CMS has all that attributes that enterprise would require to set up a fully-functional website. To get a website built on this platform, you need the professional assistance. You can look for Sitefinity development company that has proven expertise in this domain. This will ensure that you will get top-notch service at a competent price.
Also Read: Sitefinity 14 Beta is Released: Here's Everything You Need to Know