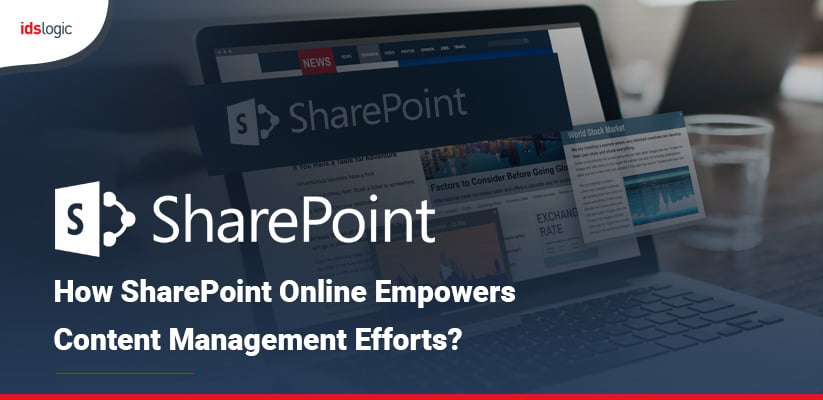 How SharePoint Online Empowers Content Management Efforts?
At present, SharePoint Online has been deployed by many organizations for their content management purpose. A part from being a collaborative tool, it comes with powerful content management capabilities that allows organization to manage content and information flow effectively.
To boost teamwork and collaboration within an organization, SharePoint Development is an ideal option to go with. For startups, it is quite a hassle to get deeper into the folder structure of the SharePoint that generally waste time.
In simple words, SharePoint content management system comes with advanced content management capabilities that drives collaboration and information accessibility as well within an organization. This further contribute towards the operational efficiency.
Harnessing the Potential of SharePoint online for Managing Content
In this post, we've discussed about the best tips for utilizing SharePoint Online in managing the content. Let's take a closer look at them in detail to get a proper understanding:
Opt for Moving Essential Documents
There is no point of moving the content that you haven't used for a long time. Businesses have to choose the documents in the first place that they are actively utilizing. There is no need to move the files that are quite old or which they not familiar with.
Are You Looking to Hire Dedicated SharePoint Developers?
Avoid Files with Old Document Versions
We are versed with the fact that SharePoint makes use of various versions. It is advisable for the organizations to opt for using the latest document versions instead of older versions to get the effective results.
Also Read: How SharePoint Improves the Education?
Prioritize Security While Migration
While migration of the files, it is important to consider the security in mind. For this, it is recommended to keep your documents in read-only mode. You should try to avoid creating multiple replicas of similar documents as this will create unnecessary chaos and increase the cost as well.
Hire Trusted SharePoint Experts for Your Requirement
There is no denying the fact content migration requires both time and efforts. With SharePoint Online, this task becomes easier for the organization to a great extent.
For its successful deployment in your business operations, it would be best to look for the SharePoint development company that knows all the ins and outs of this tool. Look for the experts who have hands-on experience in customization, development, and migration.  
Just browse through the internet and opt for the most suitable option. You will surely get effective results that aligns with your objectives.
Also Read: How to Enhance Business Operations Using SharePoint?