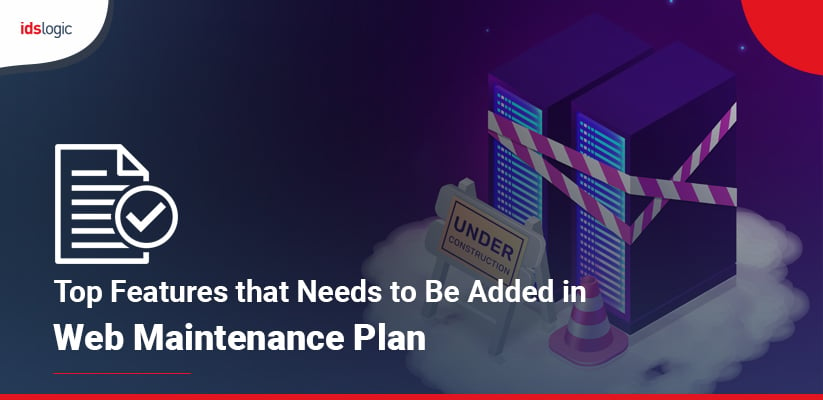 Top Features that Needs to Be Added in Web Maintenance Plan
Maintaining a good health of the website is vital for its superior performance. To ensure this thing, it is vital to conduct regular checkups on the website. This will help in identifying the security issues, so you can fix them at the earliest. This will be covered in the website maintenance that you should never avoid it any cost as it will create serious problems in the future.
While building a maintenance plan, there are certain features that are must to incorporate to reap effective results. You can ensure the top level security of your website when you include them in your plan.
Here, in this post, we've discussed about the main features that should be included in the website maintenance plan. Just take a closer look at them to know more:
Security Maintenance
If your website is not having a lock sign next to the URL, then the people will assume that your site is not safe to visit. Having that sign on your website implies that your website is SSL certified and highly secure. Hence, it is imperative to have a security support in your maintenance plan.
Website Updates
If your website uses plugins and themes, then they need to be updated timely. Using their outdated version will affect the performance of your website. It will not function smoothly, which will eventually turn off your prospects in no time. This can prove detrimental for your business growth and development. So, this feature needs to be there in the plan too.
Also Read: How Website Maintenance Will Help you in Achieving Your Digital Marketing Goals?
Creating Backup
There has been rising cases of cyber and malware attacks online. This has posed a serious threat to the security of your data. You need to have a backup of your website. In case, your website gets infected due to malware, you can easily recover your lost data. This will not interrupt your business operations as well.
Content Development
This feature should be surely included in the website maintenance plan to maintain prominence online. Businesses that don't have sufficient time to create content on a regular basis are suggested to opt for website maintenance plan that offers the content creation service.
If you want to build a robust website maintenance plan, then it is recommended to look for the website support and maintenance service. They will provide valuable assistance for this purpose. All you should do is a detailed research on the web to get the best search results faster.  
Also Read: Important Things to Consider Whilst Choosing a Website Maintenance Company