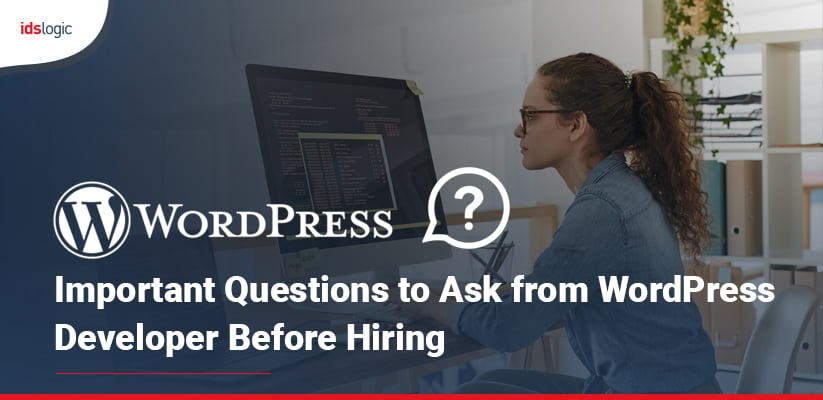 Important Questions to Ask from WordPress Developer Before Hiring
WordPress is a leading content management system that is empowering millions of websites these days. It is equipped with excellent features and functionalities that one would require to set up a full-fledged business website. Whether you've small, mid or large scale business, you should invest in WordPress development to scale up faster.
Building a WordPress website is not a cumbersome task when you hire the right resources. But, it becomes quite difficult to choose the right option that will add value to the project. This is because of the availability of so many questions that makes it quite difficult to decide anything.
There are certain questions that you need to put up from the developers before you hire them for your WordPress project. These are necessary to be asked from them in order to judge their competency level.  
Questions to Ask a WordPress Developer
Here, in this post, we've covered the set of questions that you should ask from the WordPress developer. Let's check them out in detail:
For how many years the developers are offering WordPress development solutions?
No matter what, experience truly counts. You need to ask the developers their experience in building WordPress websites. Always remember that higher the experience the more will be the success of your development project. So, it is best to hire WordPress developers who have extensive experience in building robust website for an array of industry verticals.
Are You Looking to Hire Dedicated WordPress Developers?
What procedure do you adopt to build a WordPress website?
The main purpose for putting up this question is to judge the technical proficiency of the developers. You will be able to understand how effectively they will manage the project development.  Ideally, they analyze your project requirements carefully, build a plan of action, send it to you for approval, opt for a theme, and start with the development process.
Can you create custom plugins for my WordPress website?
Choose the WordPress developers who can build custom features and integrations with an efficacy. If you want any custom feature to be built for your WordPress website, then you should ask the developers whether they will develop it from the scratch or perform on the existing one.
Also Read: Top Free Tools for Scanning Your WordPress Website Vulnerabilities in 2021
Will my WordPress website be protected against security threats?
Security is the topmost concern for every website owner. There has been a hike in the cyber and malware attacks that have risked the confidential data of the business. This is why security has become more important than ever before. Look for the developers who can implement the best security practices in your WordPress website by removing all the negative elements.
To hire the qualified resources for your WordPress project, you should look for the trusted WordPress development company. They have expert team on-board that you can choose for the success of your project.
Also Read: How to Create a WordPress Blog Post that Actually Converts?