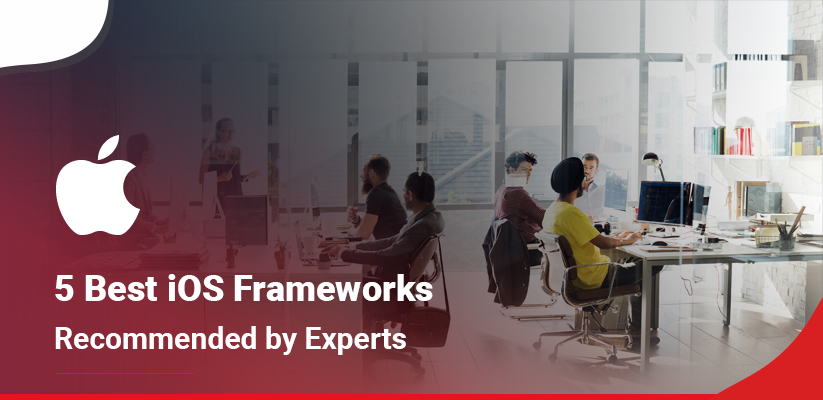 5 Best iOS Frameworks Recommended by Experts
Earlier, building an iOS app was a challenging task, and takes a lot of time. With the advent of frameworks, the things have completely changed. Apps can now be created with minimal efforts using such frameworks, which ensures quick turnaround time.
When it comes to the iOS app development frameworks, there are plenty of options to choose from. Picking the suitable one will not be that simple for the developers as they have a unique set of requirements. To make their decision easier, we've listed down the best frameworks that are recommended by the experts.
Popular iOS Frameworks that are Favorite of Experts
React Native
React Native is an open source framework that runs on JavaScript. It has been developed by Facebook and many dedicated developers are working with dexterity on this framework. Within a short span of time, it has become the topmost choice for developing iOS apps in a short span of time.
Flutter
Flutter is an open source framework by Google that helps is accelerating the process of iOS app development owing to its "Hot Reload feature". It comes with the amazing collection of widgets that lets the developers build apps with stunning UI in less time. A single codebase has been used for building both iOS and Android apps within this framework.
Ionic
Ionic framework is a reliable option for building impressive iOS apps. It allows the developers to accurately test the behavior and performance in the web browsers on various iOS devices before the deployment. So, you can launch the final app that is free from any error.
Also Read: How iOS App Development Boosts Business Growth Globally?
SwiftUI
SwiftUI is an excellent cross-platform UI framework that leverages the developers to design and develop an interactive user interface with less coding. It is simple to use and speed up the app development process, which makes it possible for the organizations to launch their full-fledged aps in the market in less time.
Kotlin Multiplatform Mobile
Kotlin Multiplatform Mobile is an SDK that utilizes a single codebase for creating powerful iOS and Android apps. It allows the building of multiplatform mobile apps, and sharing parts of your apps between iOS and Android.
Every business has a diverse set of requirements. The selection of any iOS framework should be done after the thorough analysis of the project. This will prove beneficial at the time of app development.
To convert your vision into reality, you can approach a leading iOS app development company. They have the top tools and resources to build high-performing iOS apps in the fastest possible time. Just do a profound research on the web to get the desirable options that will suit your project requirement.  
Also Read: Swift vs Dart: Which One is Best for iOS App Development?