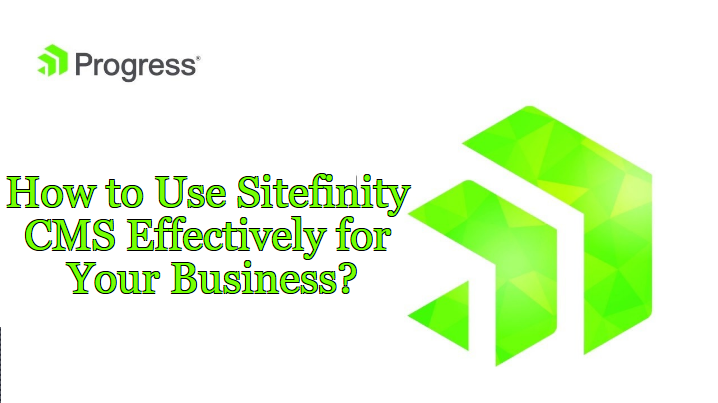 How to Use Sitefinity CMS Effectively for Your Business?
Sitefinity CMS is a popular choice of the enterprises to set up an outstanding website with less efforts. It is no more a stressful task to create, edit, and schedule content on the website for the content marketers. This is the reason why Sitefinity CMS development is in huge demand these days.
Although, it is user-friendly, but it is imperative that you have a deeper understanding of this CMS in order to utilize its potential to the fullest. Here, in this post, we've discussed the tricks to use the Sitefinity in a better way to drive the positive results. Let's take a look at them to learn more:
Diversifying the Content
When it comes to the content types, there are various options such as blogs, articles, infographics, white papers, news feed, and lots more. Every enterprise has to work on creating diversity to meet the requirements of the visitors with an efficacy, and keeping them engaged.
Sitefinity is best-known for managing the wide variety of content with ease. The users can create libraries and sub-libraries for the content. They can even categorize the content by tagging them.
Excellent Image Inline Editing Option
Adding images on the content makes it more interesting. This is the ideal way to gain the attention of your target audience faster. But, you can't add them just like that. It is important to optimize them properly to make them fits perfectly to your content.
Read More: Reasons to Upgrade Sitefinity to the Latest Release
Sitefinity comes with inline image editing option that allows rotating and resizing the images to fit your specific needs.
Adding Custom Search Widget
There is no point of having an engaging and quality content that your visitors will not be able to find it. Therefore, it is recommended to include the custom search widget to your website to make it easy for them to find the content they're after quickly.
The best part is that Sitefinity allows the developers to create custom search widget without any difficulty. This makes the content search quicker and efficient for the visitors, and session length gets enhanced.
Updating is a Necessity
Keeping your website up-to-date and functional is vital to ensure the top-notch performance. This is why it is suggested to keep a tab on the latest releases online to make your site equipped with the recent features and security fixes.
With Sitefinity, you will get timely updates in order to maintain the superb performance of your website.
Why You Should Seek Assistance from Sitefinity Development Professionals?
Hire a trusted Sitefinity development agency that can help you in building a website on this CMS. They've extensive knowledge and experience of working on this content management system that will prove valuable during the development process.