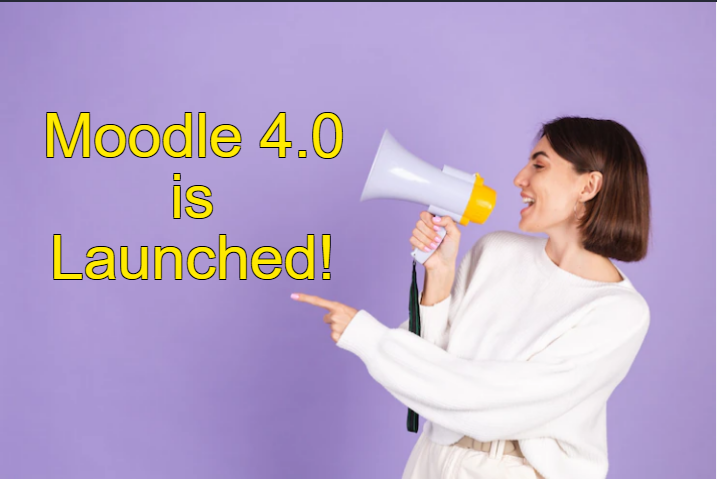 Moodle 4.0 is Here- What's this New version has in Store?
Moodle 4.0 is finally launched! The latest version seems promising for both the trainers and learners as it is offering a modern interface, user-friendly tabbed navigation system, and a redefined course experience throughout.
Although, Moodle rolls out the new releases time to time. But, this is the biggest update so by far. Those who are still using the older version of Moodle are advised to upgrade it at the earliest to the latest version to enjoy its numerous benefits. You will be able to make the most out of your Moodle development efforts.
Note Maintaining a constant pace with the latest releases and implement them without any delay will not only keep the Moodle LMS up-to-date, but also gives a competitive edge online.
Here, in this post, we will talk about the latest changes in Moodle 4.0, and how they can be useful for the learners and organizations worldwide. Let's take a look at them:
1. Enhanced User Experience
"Moodle 4.0 laid emphasis on the user experience and delivered an intuitive experience to thousands of trainers and users".
a) Refined user interface with more space
b) Smooth navigation
c) Redefined course experience
 2. Learning Management Will Become More Efficient
"Moodle 4.0 is offering an improved course page and dashboard, which will make the learners manage their time effectively, and finish the courses without any distraction".
a) Setting priorities and managing deadlines of the courses
b) All the courses will be centralized at a single location
3. Addition of In-built Virtual Classroom
"Moodle 4.0 has added the BigBlueButton as the standard feature which has completely eliminated the need of third-party integrations to host online classes."
a) Improved engagement with video conferencing
b) Real-time share of audios, videos, and chats
4. Custom Report Building becomes Simpler
"Moodle 4.0 makes it convenient for the admins to make an informed decision by giving access to the useful data analytic, and increase engagement".
a) Provides drag and drop interface with instance preview option
b) Scheduling and sharing reports on a regular basis
Apart from that, Moodle 4.0 allows the trainers to send notifications to the learners through the Moodle mobile app and email, thus, improving accessibility to the learning material.
Upgrading to the latest Moodle version will be the right option to get access to the latest features and functionality, and make the learning experience more engaging. It is strongly recommended to look for the trusted Moodle LMS migration service to ensure the hassle-free upgradation.