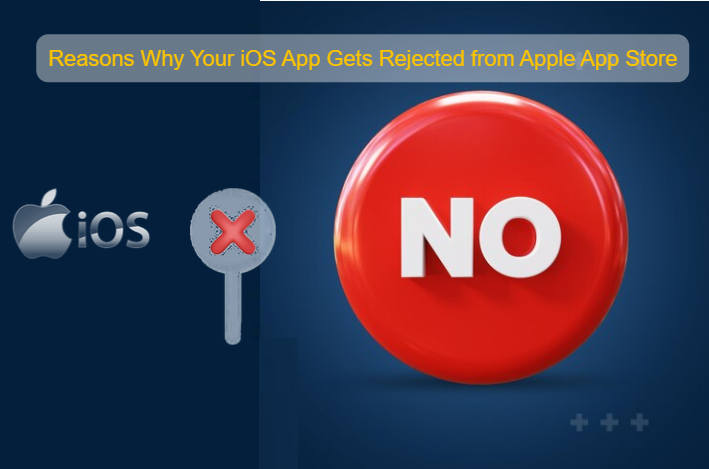 Reasons Why Your iOS App Gets Rejected from Apple App Store
Apple's App Store has millions of iOS apps that are rich in features and functionality. It goes without saying that the success mantra of iOS app depends upon the user experience. Make sure that your app runs smoothly all the time without any technical hurdle.
If you've invested in the iOS app development, then you must be familiar with the fact that Apple adheres to the strict approval process. It would be challenging to secure a spot in the App Store. Your app needs to be flawless from design to functionality.
There are many reasons why an iOS app failed to make its place within the Apple App Store. Let's take a look at them to learn more:
Presence of Lots of Bugs
An iOS app that is filled with bugs is the main reason behind the rejection. Having issues like broken links, inaccurate information, poor speed just to name a few are unacceptable by the Apple. They have a full-fledged team of iOS app developers and testers who evaluates the performance of the app. If they find any red flag, then it can't be accepted at all.
Tip– Always check your iOS app for functionality before submitting to the Apple App Store. This will help you to identify the pertaining issues in your app.
Higher Load Time
Having an iOS app that takes forever to load is another reason why it does not make it to the Apple App Store. It should take less time to load (not more than 15 seconds) in order to serve the relevant information to the users they're after, otherwise it will take them no time to uninstall the app from the devices.
Tip- Avoid usage of the heavy images and keep the design minimalistic with functions that are needed the most.
App Crash
Apple has a zero tolerance policy for the apps that fails frequently. It thoroughly tests and reviews the submitted app through multiple testing situations. If it gets crashed, then it will get immediately rejected.
Tip– The best you should do is to perform regression and repetitive testing that will put your app under various scenarios for checking performance, and detecting the flaws that are leading to crash.
 Poor UI/UX
Apple keeps the UI/UX of the iOS app on topmost priority. Everything on your app should be properly placed from the menus to CTAs button, which the users can see without any hassle. If your app does not fulfill this criteria, then it will be really out of the race.
Tip– You need to ensure that your app strictly follows the design and look guidelines of the App Store in order to deliver a consistent user experience.
Do you have a winning iOS app idea in mind? Choose a reliable iOS app development agency that can convert your vision into reality. Make sure that they're well versed with approval process of the Apple App Store. This will aid them in building an iOS app that matches with the set standards of this store.