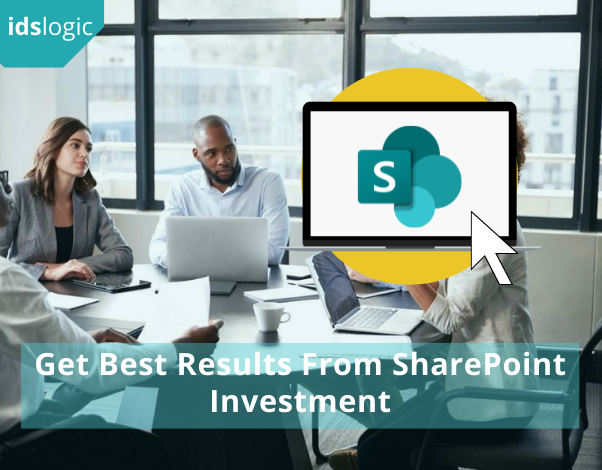 Tips to Get the Best Results from Your SharePoint Investment
Today, SharePoint is the best collaboration tool that has solved the communication barriers within an organization. The team can work collectively on a project and share ideas effortlessly using this tool, and complete it on the set deadline. Over the last couple of years, its integration has witnessed an exponential growth.
No matter the size of your organization, it would be best to invest in the SharePoint development. This will aid in boosting the productivity at the workplace that will ultimately drive success in the long run, which is the prime goal of any business.
Here, in this post, we've discussed the tips to get the most out from your SharePoint investment. Just take a look at them in detail:
Excellent Document Repository
Organizing the documents systematically is the biggest challenge of any organization. SharePoint comes with the document management capabilities that keeps the data storage centralized. This makes the search simpler for the employees and saves their ample time and efforts.
Builds Intranet Portal
Intranet is considered as the ideal option to share information in a secure manner that promotes a healthy culture within the workspace. SharePoint can be integrated seamlessly with other portals and sites within your intranet. Apart from that, it can also be integrated with the apps like Microsoft team and Yammer.
Automation of HR Operations
When it comes to the process automation, SharePoint workflows are the best possible option that you should definitely consider for your purpose. With SharePoint Online, it will become easy for the HR department to automate the processes such as employee on-boarding, leave processing, and lots more.
Improved Business Intelligence
SharePoint Online is also known as a centralized Business Intelligence (BI) platform. Thanks to the integration with Microsoft Office and Web apps, and SQL server connectivity, it offers an efficient business analysis in a highly secure manner.
It is safe to say that SharePoint comes with all the capabilities that can contribute towards the operational excellence by maximizing the efficiency and productivity. This is the main aim of any business regardless of its size and nature.
Hire Reliable SharePoint Development Company for Smooth Integration
If you haven't deployed this tool yet, then it is strongly recommended to approach a trusted SharePoint development company. They've relevant experience and knowledge to handle this task proficiently. Just do your research and opt for the most suitable option for your business.