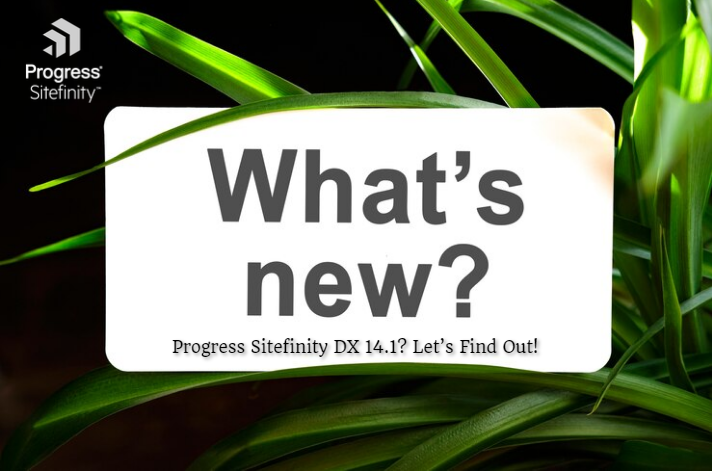 What's New in Progress Sitefinity DX 14.1? Let's Find Out!
Progress Sitefinity DX 14 was released with the purpose to accommodate the changes in the marketplace with ease while keeping the intuitiveness and flexibility intact that have impressed the customers for quite a long time.
Some of the major highlights of the Sitefinity DX 14 are:
a- Extended capabilities for building multichannel experiences
b-Simplified system integration
c- Highly secured file uploading and transferring using a tight integration with Progress MOVEit
d- Chatbot integration- An Intelligent Marketing Tool
Now, the Sitefinity DX 14.1 is here! We'll see exciting features with this version too. All the features are incorporated by keeping the customer-centric approach in mind. If you've invested in the Sitefinity development, then it will interest you more!
Let's take a look at them in detail:
1. New Page & Form Building Experience Using .NET Core Renderer
.NET Core Renderer provides powerful framework for creating a frontend that will shape cross-platform experiences with great scalability. In addition to this, Sitefinity DX lets the content developers to utilize the full potential of the new page building experience using this modern framework. Owing to this fact, it will become convenient to create and add forms to the pages.
2. Integration of Digital Asset Management (DAM) Platform
We are familiar with the role of DAM in keeping the digital assets of the enterprise at a single location. This has resulted in the efficient digital management. With Sitefinity 14.1, there will be partner integrations with Cloudinary and Frontify to make robust DAM potential accessible to the content creators. Not only this, it will ensure the centralized management of the product library and brand assets for the enterprises. 
3. Azure Cognitive Search Facilitating Advanced Search
Being a popular cloud search service, Azure Cognitive Search provides an easy access to the Sitefinity developers to the powerful APIs and tools to create an effective search experience across web, mobile, and enterprise apps. With the integration of Azure Cognitive Search in Sitefinity DX 14.1, it becomes simple to understand the intent behind the users' search, and cater them the relevant search results.
4. Audience Profiling & Personalization
Due to the recent enhancements, it has eliminated the need to build audience segments manually. This has been replaced by the AI-driven segmentation on the basis of content consumption. As a result, it helps both the digital marketing and sales team to analyze the behavior of the users that aids in profiling audiences and targeting them in a better way.