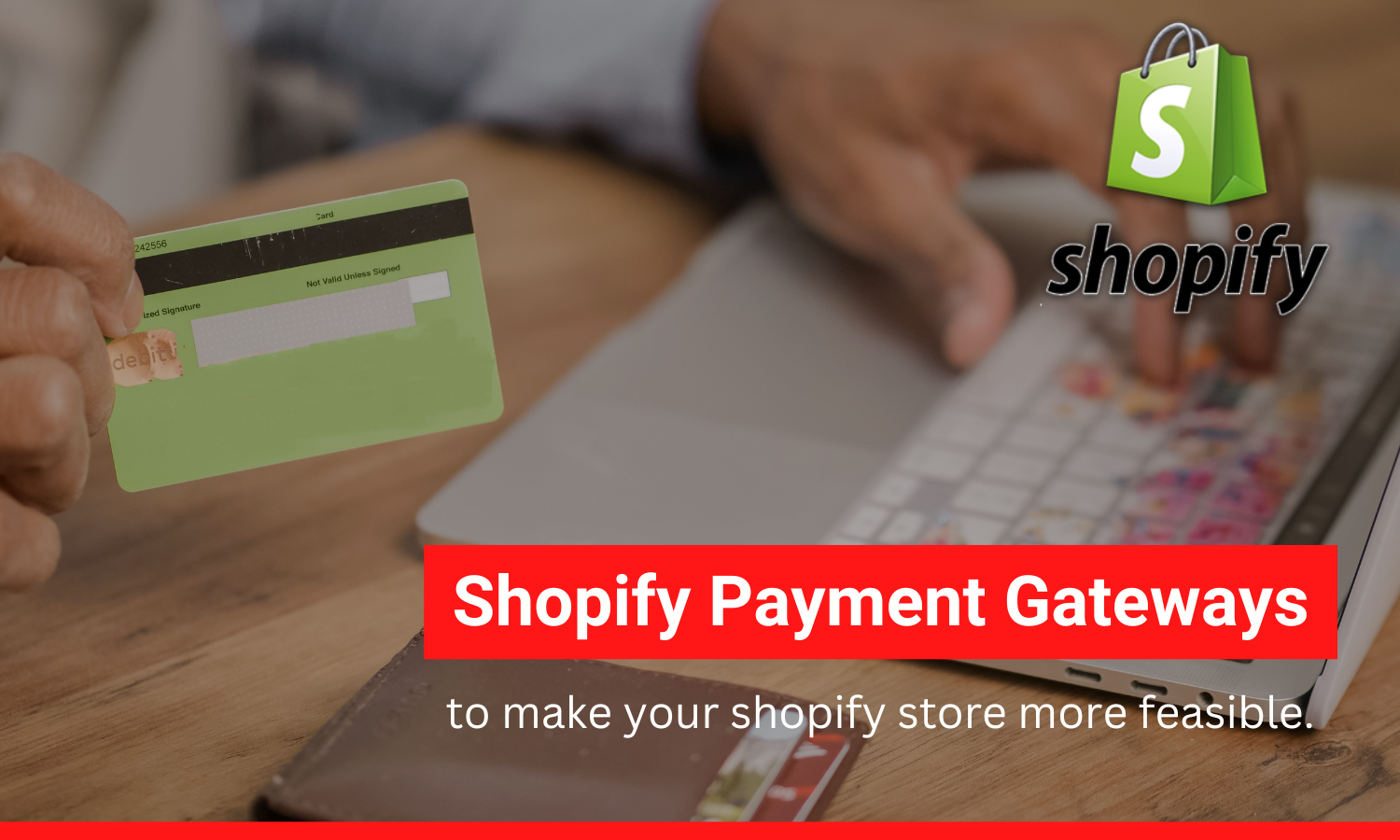 An Ultimate Guide to Shopify Payment Gateway in 2022
Running a Shopify store is challenging due to rising competition in eCommerce market. Your prospects can be converted into paying customers when you provide them an enhanced shopping experience right from the beginning. To ensure their product purchase as smooth as possible, it is important to have a good payment system in place. Your business will fail or succeed will rely on it.
Choosing the right payment gateway for Shopify store is a crucial decision. This function facilitates the customers to complete their purchase quickly. It should be flawless that offers a top-notch payment experience to customers. Owing to this fact, sales and revenue generation can get increased significantly.
Your payment system has a direct impact on the customer's buying experience. It should be fast, efficient, and secure. While performing Shopify development, your primary focus should be offering a reliable payment gateway to customers. Your eCommerce business can go a long way with a robust payment processor.
What is a Shopify Payment Gateway?
Payment Gateway is an indispensable part of any business. This online payment processing system is used by Shopify store owners to accept payments easily from customers.
In other words, it provides a secure platform to transfer money from the customer's bank account to the merchant's.  It should be user-friendly, reliable, fast, and scalable that carries out online transactions in a secure and efficient way.
"An ideal payment gateway is the one that adapts easily with your Shopify store's design, and provides integrated credit and debit card payments in a few clicks".
Effective Tips for Choosing the Suitable Shopify Payment Gateway
When you check online for Shopify payment gateway options, you will be surprised with the search results. It will not be easy to finalize any one from the list.
To make your decision simpler, it is recommended to do a proper analysis of the different gateways available online. For this purpose, you need to analyze your target audience and their payment preferences to get a proper idea.
Before picking any option, a plethora of factors need to be considered to make a meaningful decision. Let's take a look at them:
Zero Code Integration
Make sure your payment gateway can be integrated seamlessly into Shopify store. It should provide a no code solution so you don't have to face intricacies involved in integration, otherwise you need to depend on Shopify developers.
Multiple Payment Modes
Your payment gateway should support various payment methods like credit/debit cards, wallets, pay later, internet banking, and lots more. Such flexibility in payment mode boosts business sales.
Payment Transaction Fees
While looking for the payment gateway, you should confirm whether it charges a single setup fee or an annual fee. Along with it, you should also check the transaction fees for different payment modes.
International Payments
Allowing payment in foreign currencies is critical for the business success. If you are selling products globally, you need a payment gateway that supports international payments. It will extend your business reach, and grow your sales.
Settlement Time
A settlement time is a duration in which an amount initiated from the customer's end gets transferred into the merchant account. Always choose a payment gateway option that provides less time to get settled.
Payment Refunds
It's common for customers to ask for a refund of the payment made for a product. Although, a payment refund process takes time, but you should select a gateway that takes minimum working days to return the money.
Security
Security is a matter of serious concern when online transactions are involved. You should select a payment gateway that offers strict security measures against fraudulent activities.
24/7 Customer Support
Payment gateway should offer a dedicated customer support team in place to address issues related to refunds, settlements, and more. It should have a good reputation in resolving issues related to payments faster.
Importance of Shopify Payment Gateway
While running a Shopify store, you can't overlook the necessity of a payment gateway. No matter how small or big your Shopify store is, it is a must to have a gateway that allows seamless and quick transactions online.
Here are some benefits that a payment gateway can bring to your Shopify store:
Quicker & Secure Transactions
One of the biggest benefits of a payment gateway is that it provides outstanding speed and security during payment processing. Your customers can make payments faster that can drive a better shopping experience. It will also help in regulating the cash flow without any difficulty.
Increases Customer Base
Secure digital payment options are great for attracting new customers, and retaining the existing ones. Having a payment gateway that supports multi-currency will expand your business reach. Shoppers from all across the world will buy from your Shopify store.
Saves Enormous Time
A payment gateway is a great time saver for both the customers and the merchants. Making and collecting payments has never been easier. It has become possible due to the integration of right gateway into your Shopify store.
Better Customer Experience
High cart abandonment rate is the serious problem for Shopify store owners. Its root cause is unavailability of flexible payment options. You can solve this problem by selecting a payment gateway that accepts a variety of payment options. In turn, it will take your customer experience to a new level.
Different Shopify Payment Gateways Available Online
Shopify Payments
Shopify Payments has gained immense popularity in the past few years. This gateway allows merchants to accept credit or debit card payments using their Shopify account without any need of a third-party gateway.
Pros
Easy & quick setup

No third-party transaction fees

Multiple payment options

Data encryption

Multi-currency support
Cons
High chargeback fees

Limited to few countries

Sudden account issues
Stripe
Another renowned Shopify payment gateway is Stripe. It offers many advanced tools that can be customized to suit your payment processes, and redefines buying journey of customers in a positive way.
Pros
Intuitive user interface

Flat rate fees

Supports multi-payment modes and currencies

24/7 customer support
Cons
Frozen or cancelled accounts

Limited geographical locations
PayPal
PayPal needs no introduction. This payment gateway is known for its extensive feature set such as mobile checkout, allowing international payments, just to name a few. It even makes payment directly from the PayPal.
Pros
Easy to use

Encrypts credit/debit card details

Fraud prevention
Cons
Transaction fees

Poor customer service
Amazon Pay
At present, there are a large number of users having Amazon accounts, and making payments using Amazon Pay. It provides a convenient platform for customers to complete purchase on Shopify store.
Pros
User-friendly

Seamless integration

Quick fraud detection and prevention
Cons
Not affordable for small merchants

Lengthy transaction process
Conclusion
Doubtlessly, picking a payment gateway for Shopify store is a big step. With so many options to choose from, it becomes intimidating to decide anything. One of the best ways you should do is to go through their pros and cons, and then decide which will be perfect for your store.
It's good if you can integrate a payment gateway into your Shopify store by yourself. But, if in case, you are unsure to manage it on your own, it is best to seek guidance from experts.
Hire a trusted Shopify development company that can integrate a payment gateway into your store successfully. With a wealth of experience in this niche, you can get affordable Shopify services at an unwavering quality from professionals.