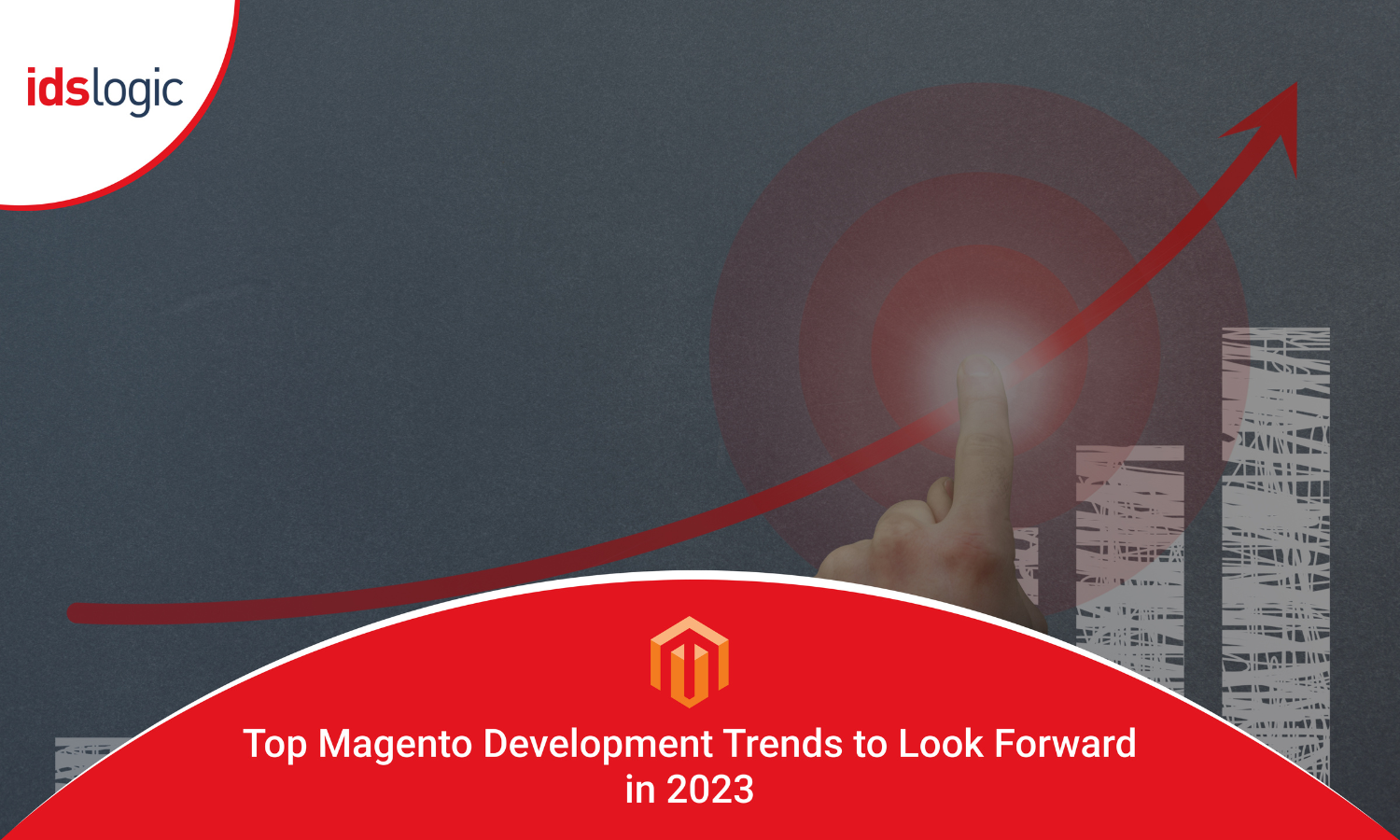 Top Magento Development Trends to Look Forward in 2023
Does your ecommerce store is powered by Magento platform? If yes, then you must give a read to this post to learn about the recent Magento development trends that can take your business to newer heights if embraced on time.
So, let's get started!
Countdown to 2023 has already started! The realm of Magento development will experience a drastic technological shift this new year. Magento platform is proactive in terms of bringing the modern and innovative technologies leading to an array of enhancements for a strong online presence.   
Your online popularity is defined by how prompt you adopt the latest trends. It is the need of the hour to stay ahead of competition. No just it will enhance your business credibility, but also increase engagement and conversion rate. Millions of businesses have already started implementing the most recent technologies in their online stores. Delaying it any longer is not a good idea!
Now, it's entirely up to you to keep your Magento store basic or equipped with advanced features and functionalities. If you want your store to stand out online, you must implement the ongoing tech trends soonest.
Before directly jumping into the topic, let's first know the relevance of the Magento development trends.
Why Keeping up the Latest Magento Development Trends is Required?
Here is a list of specific pointers to outline the importance of implementing Magento development trends before anyone else does.
Ecommerce competition is increasing with every passing year

Provides a competitive edge in the ecommerce market

Elevates your business reputation

Boosts user experience and sales
7 Magento Development Trends that Will be a Big Hit in 2023
Magento is unarguably the most used ecommerce platforms out there. It is constantly evolving that gets reflected from the latest trends it comes out with every year. Applying them in a timely and efficient manner can help you to move towards your business goals faster.
Read on to discover the new Magento development trends in 2023.
Growing Use of Smart Search
Making sure that your customers don't have a hard time in getting the products they're looking for is utmost important. This is why it is strongly suggested to have such functionality that makes it convenient to make the product search simpler.
Smart search functionality is the next big thing for Magento store owners. With the help of smart search features like filtering and auto completion, the shopping becomes less stressful. The icing on the cake is a voice search feature that allows customers to shop through voice instructions. It saves both their time and efforts.  
Personalized Shopping Experience
Customers love shopping from stores that offer personalized product recommendations. If your store is missing this quality, it can become challenging to retain existing customers and attract new ones.
Magento comes with tools that fully understands what modern customers want and deliver them a service that matches exact specifications. It increases sales and revenue of the business.
Dawn of Live Video Streaming
Smart entrepreneurs are no longer relying on product images and descriptions to entice customers. It's an outdated method! They've taken a step forward to promote their products and services to their potential customers using live video streaming.
Live video streaming feature is taking the ecommerce world by storm. Many Magento store owners are using it right now to gain traction. It provides a 360-degree view of products to customers so they make a quick purchase. If you've not used this feature yet, then now is the time to do so to grab more attention.
Integration of AI-Enabled Chatbots
Chatbots are great tools to interact with customers and build a better connection with them. Having this functionality in your online store can improve customer service experience in the long run.
The good news is that Magento allows seamless integration of AI-enabled chatbots that not just collects essential customers' data, but also serves them round-the-clock with an effective and speedy solution for their concerns.
Prominence of Mobile Commerce
Mobile phones are crucial parts in modern day living. From paying utility bills to shopping, everything can be done using mobile devices like tablets, laptops, etc. It goes without saying that your online store should be optimized for such devices for a pleasant user experience.
Since the majority of sales (75-80%) comes from mobile commerce. Magento makes it simpler for businesses to make their stores mobile-friendly. This can result in a great shopping experience across several mobile devices. Your products will sell more.
Using Push Notifications
Keeping customers updated with your newly launched products and running offers/discounts can drive more sales. But, how you can do it? The push notification feature is gaining immense popularity these days for informing customers about what's happening in your online store.
Magento can integrate this feature to your store effortlessly. You can send messages time to time to your valued customers about your products and services to win their attention. It can bring a huge difference to your sales.
Progressive Web App Development
Every Magento store owner must be looking for ways to multiply their sales and user experience as well. The rising trend of PWA development can do wonders for your business to achieve your goals.
PWA can prove to be a game changer for Magento store owners. It is a website that is designed to deliver a native app like experience to customers. This means that you don't have to invest a huge sum of money in building a full-fledged app as PWA is there to serve your customers better.
Final Takeaways
Ecommerce industry is extremely competitive. If you run a Magento store, it's necessary to closely monitor the technologies that can prove effective for your business growth. While investing in any trend, it would be better to analyze if it can add serious value to your ecommerce business or not.
In case, you don't get enough time to monitor the ongoing trends, consult a trusted Magento development company on how to keep your online store up-to-date to boost user experience, ROI, and loads more.