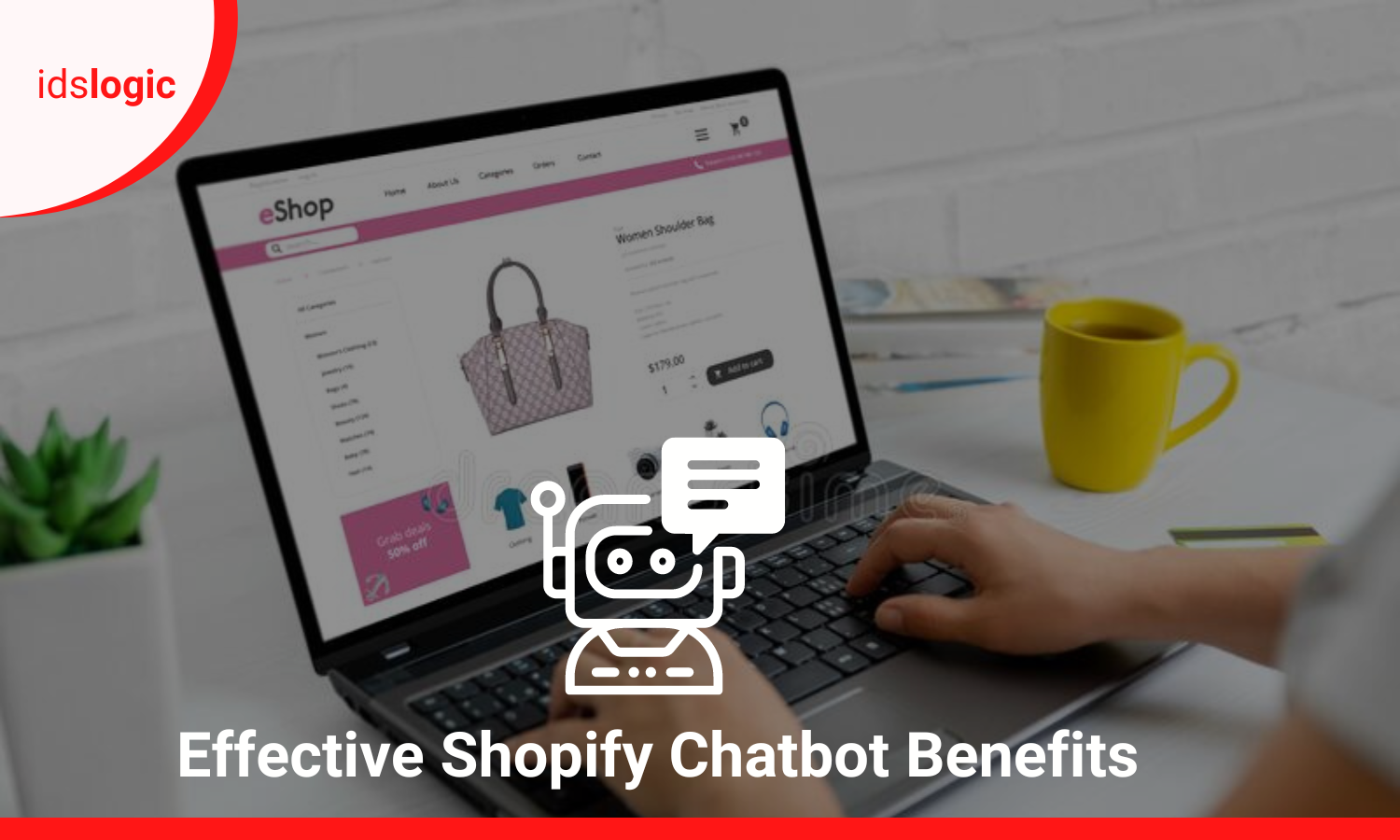 Invaluable Benefits of Shopify Chatbot in Elevating Your Ecommerce Store Growth
Are you looking for the effective ways to make your customer service better and attract more buyers towards your Shopify store? We've got you covered! This article will help you understand how the addition of chatbot can add more value to your business.
Ecommerce industry is going big! It has become non-negotiable for businesses to have an online presence these days. Building your dream store is no more a hassle because of availability of several ecommerce platforms like Magento, Shopify, OpenCart, and much more. Amongst them Shopify is a strong option to consider in building your online store.
Shopify is arguably one of the most popular ecommerce platforms out there. It has tons of great features that are super-suited to build an impeccable online presence. That's why many entrepreneurs trust it for driving the success of their ecommerce business.
Integration of chatbot during Shopify development can take your ecommerce store to newer heights. It will improve the capabilities of your Shopify store to a great extent. Your customer service support will work more efficiently. From round-the-clock availability to speedy resolutions, it can do all for your business.
If you're thinking whether it's a good idea to add chatbot or not, you've come to the right place. This post will help you understand how Shopify chatbot can elevate your business growth in the long run. So, let's get started!
What is a Shopify Chatbot?
A Shopify chatbot is a computer program that employs artificial intelligence (AI) and natural language processing (NLP) to understand customer queries and automate responses with a personal touch, leading to a higher customer satisfaction rate.
Since the inception of chatbot, it has experienced an unparalleled growth. More and more Shopify stores are embracing this breakthrough technology to drive conversion & scale up your ecommerce business. It is safe to say that it is here to stay for long and contribute in your future growth.  
Without wasting any time further, let's get straight to the topic!
Why Shopify Chatbot is Crucial to Accelerate Your Business Growth?
Adding chatbot in your Shopify store can prove to be a game changer for your business. It is an outstanding method to deliver a personalized experience to the customers that drives engagement, conversion, and sales for your business.
Here are a few business benefits of integrating Shopify Chatbot
Know Your Customers Better
Chatbot is a great option to understand your customers more. It provides useful insights about them such as their search and order history, buying preferences, etc. Such details are useful in delivering a personalized shopping experience, leading to an improved customer satisfaction rate.
Boosts Engagement Rate
With AI-enabled Shopify chatbot, you can quickly enhance the customer engagement. You can start conversations with them based on their search queries, offer them a fast response, and recommend them products, resulting in a quick purchase.
Reduces Shopping Cart Abandonment
Cart abandonment is the biggest problem for Shopify store owners. It can be fixed using chatbot technology. You can easily assist customers with their queries that facilitates them in making a better buying decision. This can decrease your cart abandonment rate.
Saves Your Time & Money
Having chatbot in your Shopify store can significantly reduce the customer service cost. You don't have to spend much in hiring and training resources to serve your customers. That's because you can set automated responses to frequently asked questions and saves ample time of your support team.
Increases Sales
Using chatbot helps Shopify store to send personalized offers to customers. This can make them feel valued that can get translated into sales. You can personalize communication that aligns with your customer's interests and preferences. It can greatly help to increase your sales performance.
Gather Customer Feedback
Feedback is essential for Shopify stores to improve their customer service experience. Integration of Shopify chatbot can prove invaluable at that time. It efficiently collects real-time feedback of customers at different stages of buying journey. This can make you learn where exactly your customer service is lacking.
In a Nutshell
Choosing chatbot for your Shopify store comes with its own perks. It improves customer engagement, conversion, and sales for your business. This is why, you should not delay its adoption in your existing business operations.
If you're thinking of adding chatbot to your Shopify store, speak to a reputed Shopify development agency to discuss your store requirements in detail. They've relevant technical expertise to deliver exactly what you want at a competent price.