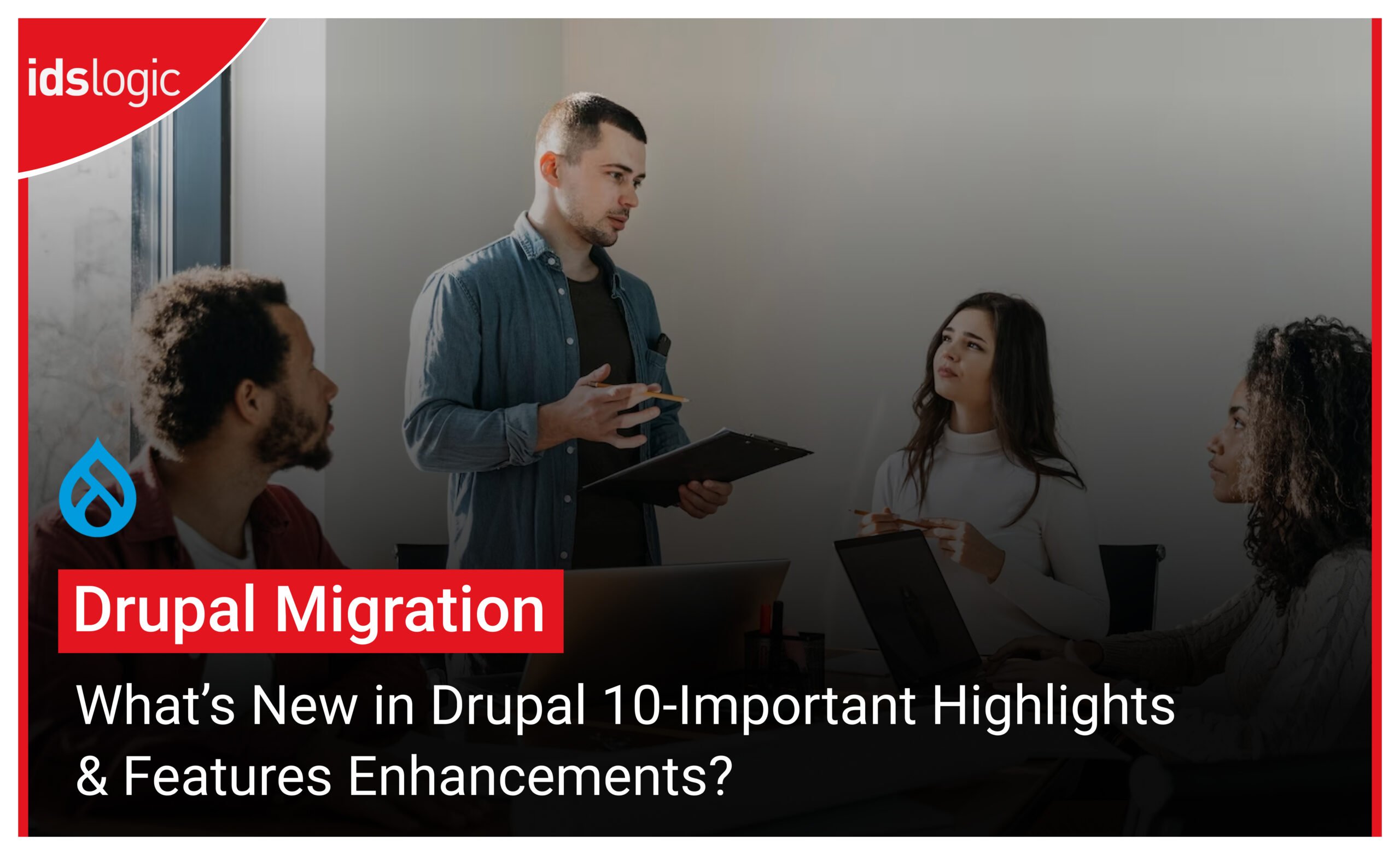 What's New in Drupal 10-Important Highlights & Features Enhancements?
Businesses look for a modern content management system that is intuitive, SEO-friendly, multi-lingual, and secure. That's exactly where Drupal comes in! It's a feature-packed CMS that allows faster creation of alluring websites with less efforts.
Drupal CMS is constantly evolving with the latest features and functionalities to live up to the users' expectations. It surprises every time with its new release. That's the reason why it is the most-loved CMS out there.
Are you geared up for Drupal migration? If so, you've come at the right place to learn about its significant features and enhancements!
The much-awaited Drupal 10 was released on December 14, 2022. Much like every release, it offers a lot of exciting features that make a great CMS. Everyone is eager to know what's new in Drupal 10 now that it's been officially out for general use.
What's more? Drupal 10 has also provided a beta release for users who wish to experiment its features. If you want to know the full capabilities of this new release, you should try out beta first.
Now, let's check out what's so special about Drupal 10?
What Features & Improvements Drupal 10 Brings to the Table?
Drupal 10 version is packed with numerous features that contribute towards an enhanced user experience. Let's delve deeper to learn more.
CKEditor 5
CKEditor 5 is the default rich text editor that provides out-of-the-box functionality. It provides a range of features that can take the content editing experience to the next level. It removes extraneous markup from putting from Google Docs or Word efficiently. In the simplest words, the paste-from-document functionality has significantly enhanced.
Olivero Default Theme
Drupal already offers various themes to the users. With this new release, the Oliver Default theme comes that can determine the look and feel of your website. Businesses that are looking for the ways to launch a minimalistic website faster should definitely consider this theme.
Theme Starterkit Tools
One of the most essential Drupal development tasks is theming that decides the final look of your website. This is why Drupal 10 has been released with Starterkit theme that is intuitive and follows the latest design trends. It allows developers to create a theme containing basic files and configurations.
Decoupled Menus
REST, JSON, and GraphQL APIs are supported by Drupal. In order to build a large repository of web components and JavaScript framework integrations, Drupal 10 has been released. This can be achieved faster with the help of Decoupled Menus feature. In turn, it will lead to the development of more web service endpoints and JavaScript components.
Removal of a Few Core Modules
Drupal 10 core has removed some modules that are redundant and not used for quite a while now. Such modules are shifted to the Contributed Module space for consistency. Aggregator, QuickEdit, HAL, Activity Tracker, RDF, and Forum are amongst them that have been removed and transferred to another location.
Updation of Third-Party Libraries
Drupal 10 supports PHP 8 and jQuery will get replaced by modern JavaScript components. It will no longer be compatible with Internet Explorer 11. Plus, the decompatibility issues of Symfony 5 are now fixed and developers can utilize it properly with Drupal 10.
Some Concluding Thoughts
It goes without saying that Drupal has outstanding features to offer with version 10. From rich text editor to mesmerizing theme, it has everything that businesses want in a modern CMS. It is worth an upgrade!
Drupal website owners are urged to upgrade to the latest version immediately by seeking assistance from an experienced Drupal development company. They will ensure a seamless transition to the latest version without any data loss and downtime.