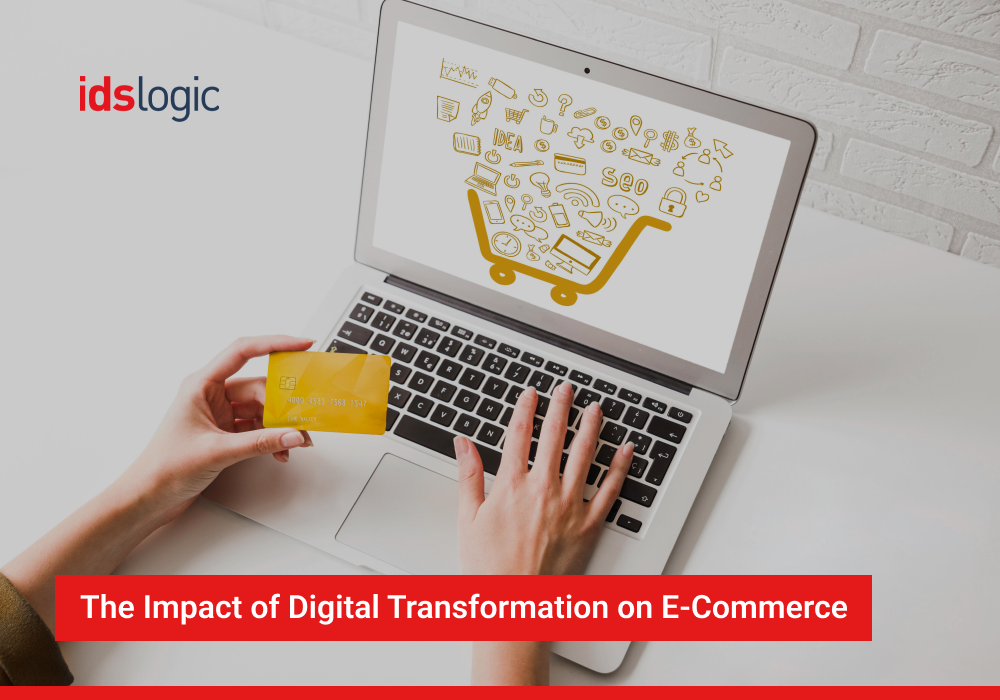 How is Digital Transformation Impacting the Future of eCommerce?
Ecommerce has become a part of our everyday life. All thanks to the widespread availability of eCommerce development services. Looking at the number of transactions that occur on a daily basis, it will not be wrong to say that digital transformation is sure to impact the future of eCommerce in a positive manner.   
Digital transformation has been going on for quite some time. However, recent pandemic has surely accelerated its adoption by the companies in IT, digital, energy, and similar spaces.
Talking particularly about eCommerce, digital transformation has surely made an easy going way for eCommerce web development companies to offer their services in the most convenient way.
The eCommerce industry has been surely revolutionized by digital transformation most specifically in context of services, products, and business processes.
Before we discuss how is digital transformation impacting the future of eCommerce, let's first understand what digital transformation is all about.
What is Digital Transformation?
Digital transformation refers to digitalizing business processes by utilizing technology.
Transforming the processes does aid in better decision-making. With the aid of technology, it becomes easier to bet on the outcomes that could benefit the business in the long run.
When done the right way by eCommerce website development companies, digital transformation can help level-up customer experience as well. The goal of introducing digital transformation in business is to increase business value through innovation, efficiency, and customer experience.
Digital Transformation for eCommerce Business
Digital transformation is an exciting process for eCommerce web development businesses.
While digital transformation may seem like it's everything about renovating business processes, it is more about modernizing the customer experience that is the base for any business to flourish.
Following are the Ways Digital Transformation is Changing eCommerce business:
Direct-to-Customer Selling has Accelerated
Direct-to-Customer selling is a better way for eCommerce companies to know their customers in a more personalized manner.
While retail analysis becomes the fundamental for accelerating business, assistance from an experienced eCommerce website management services company can help in adding this acceleration.
For instance- if eCommerce development services are coming from a trusted company, they will ensure a seamless site visiting experience for the customers thus bringing in engagement to the website.
Element of Personalization is Winning over Customers
Ecommerce businesses have customers' data kept secured with them. Businesses use this data to offer a highly customized shopping experience to the visitors.
Depending upon their browsing history, consumers are presented with the items or products that they are most likely to purchase. Every time a customer logs into a website, a significant amount of browsing data is created.
This data reveals customers' choice, their browsing patterns, and insights into their liking and buying if a purchase is made. This data can help eCommerce web development companies personalize the experience for the customers.
Optimization is Becoming a Core for Businesses
Conversion rate optimization or CRO is as important as any other metric (for instance SEO) for eCommerce businesses. Companies offering eCommerce website management services know this fact.
While good SEO practices bring customers on your websites, proven CRO tactics will help to convert them. CRO is the method of finding the areas that needs improvement on your website.
The goal with this method lies in increasing the percentage of customers who performed any desired action on the website. These actions may include adding a product to the cart, filling out a form, clicking a link, etc.
Alternative Payment Methods are on a Rise
While a plethora of payment methods including credit cards have enjoyed a great success, customers are now moving towards other payment methods like BNPL.
Buy-now-pay-later, as the name suggests offers customers the ease of paying for a service later but getting the services immediately.
Additionally, online payment options have also been rising and the effect can easily be seen in today's post-pandemic premises.
Successful Steps for Digital Transformation
Exceptional end-user experience: it ensures customer retention

Digital processes to accelerate operations: it reduces cost and allows differentiation in the processes

Control over digital assets: it ensures greater insight into operations

Robust infrastructure: it ensures operational flexibility

Insights through analytics: it ensures competitive advantages
Summry
All eCommerce web development companies should keep the above listed pointers in mind while ensuring digital transformation.
The process is a never-ending journey and therefore new and exciting experiences must be woven continually for the customers.
eCommerce in recent years has showed its true potential. The profit from this potential can easily be cultivated by hiring services from well-known eCommerce website management services.