Manage Your Customer Relationship with CRM Module
Business owners have many specific requirements that needs to be fulfilled if they want to offer customer satisfaction. For that, choosing the right software development platform is essential. But at times the chosen platform may have certain limitations and may not offer some features that the website owner needs.
In that case, the organization needs to pull out all stops in innovating and improving its business strategy or hire some developers to create modules or extensions that can help to enhance the features of the site as well as meet the business objectives.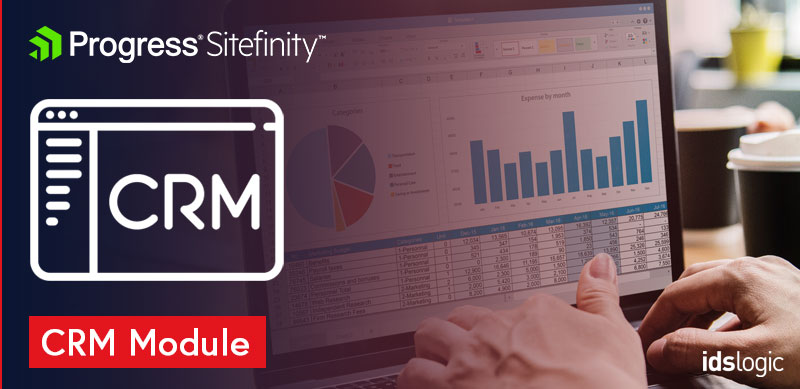 Today, it is no longer necessary to create every feature that your website needs. Now there are plenty of third party modules to help you add some extra features without spending much time at all. These modules are developed, keeping in mind the core objective of the business and making the services better. Whether you are in need to track some statistics or increase the connectivity between groups or improve the level of engagement, these add-ons are sure to stop you from continually reinventing the wheel.
Advantages of Integrating Ready-Made Modules:
No resource hiring to develop the module
Cost and time saving
High quality codes as the modules are developed by experts
Support and maintenance available
IDS Logic has Created a Sitefinity Add-On – CRM Module
Many of our Sitefinity clients often want some extra features to be added to the site so that they can meet their business objective.
One of our clients was in need of a module that could help the teachers, volunteers and organizations to connect with each other. Any organization interested in arranging a workshop or training session could get in touch with the teachers or volunteers through the site that acted as a common platform for all the three.
Some Features of Our Module:
Each teacher and volunteer had their profiles created
Organizations willing to conduct a workshop could send their requirements and event date 45 days ahead
Willing teachers and volunteers could accept the request and send a confirmation
In case of any workshop rescheduling, the organization had to intimate at least 15 days early
Teachers or volunteers unable to attend the workshop could send a cancel request few days ahead
Emails are sent to individuals from the backend
Administrator could check the detail report of all the workshops and the assigned teachers and volunteers
We have all the codes ready with us. If you are in need of such a module or want to make some customization to our existing module to meet specific business needs, then our Sitefinity developers can do it all.
For more information, get in touch with us today!