Handle Requests Efficiently With a Ticketing System
As your company continues to grow and expand, you will also face various issues which you have to resolve systematically to improve your daily workflow. A ticketing system is a tool that helps any organization manage their services and support any cases. The system generates a ticket for any issue related to a process so that it is considered, making it easy for the staff to resolve any complicated problem faster.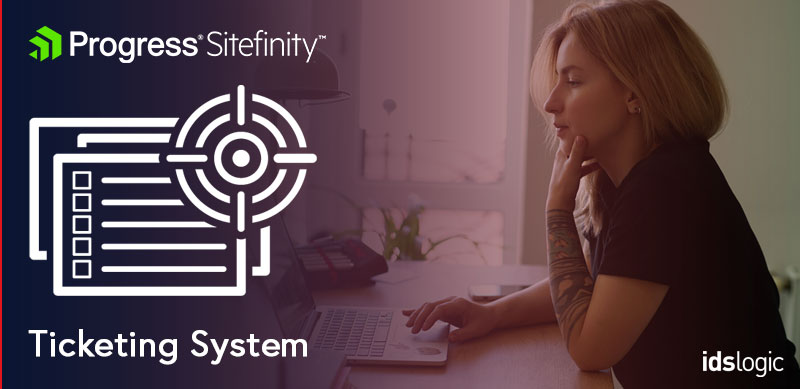 Benefits of Using a Ticketing System on Your Sitefinity Website:
A great website can always set you apart in the industry, but having some extra features will always put you over the edge. Solving internal problems fast is also just one way to achieve this. An online ticketing system helps to handle the request without any loss of time. Here are some of its benefits:
Helps to prioritize the request
Faster ticket resolution
Everything is centralized in one place
Creates an easy means of communication
Keeps your much more organized
Helps to work across various departments easily
Streamlines operations and ensures seamless functioning
Easy monitoring and reporting
Enhances employee productivity
Resolving internal issues through email accounts often becomes very messy and is also hard to maintain with the increase in load. Integrating a ticketing management module with your Sitefinity website brings a level of excellence to your business and is of course a great means to make sure that your employees are not facing any issues.
Ticketing System Module by IDS Logic
While working with one of our Sitefinity clients, we had received a request of integrating a Ticketing system with the website so that our client could handle any internal issue and resolve it efficiently. They wanted to make their business processes smooth and remove solving issues through emails.
Since Sitefinity doesn't come up with any such feature, we decided to create one and integrate it with the site. Our ticketing module helps to replace spreadsheets and assist the help desk professional in solving any internal issues quickly.
Some Features of Our Ticketing Module
It is accessible and easy to use
Ensures that the ticket is assigned to the appropriate staff
It allows the users to view the status of the tickets
It can easily track a ticket's history
Has a comprehensive notification alert system
Supports grouping of related tickets
Can be attached to blogs, or any other sections of the website
Can be easily customized to accommodate your business workflow
Choosing a ticketing solution for your organization gives your team the tools for success and keeps them motivated, updated and also productive.
At IDS Logic, we have worked with various companies to improve their internal support workflow and improve their response time to support tickets. If you have any such requirement, get in touch with us today!