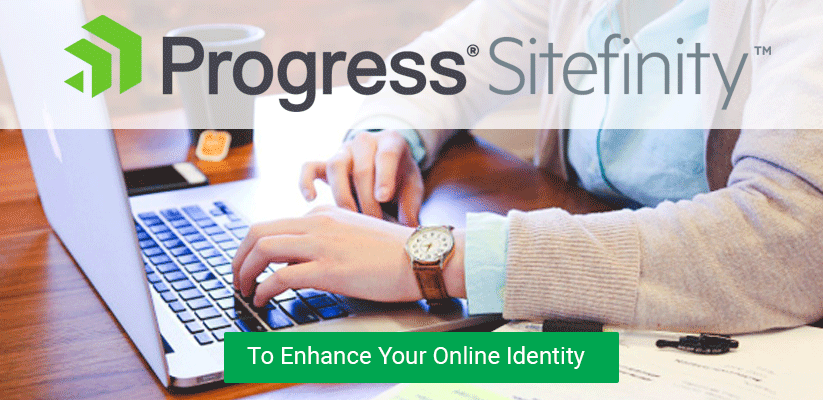 Use Sitefinity to Enhance Your Online Identity
Once you have developed a website that is fully optimized, you can start various online campaigns so that more and more audiences learn about your business and avail your services or products from the site. 
Your web presence is where you engage your customers, industry analysts, prospects and even your competitors. So, in this challenging market, it is vital that your CMS empowers you to deliver relevant content and compelling experience across every channel.
Sitefinity CMS development offers an integrated approach for your online presence from campaign management, lead generation, content management to ecommerce and etc. It puts you in full control of the web experiences that you deliver to your visitors.
But, how? Let's take a look at some of Sitefinity features that help to take your online presence to the next level.
Deliver Compelling Content:
With Sitefinity CMS, publishers and marketers can create effective campaign sites and micro-sites easily, so that they can promote new products, upcoming company events and special launches.
Business owners can easily create a corporate blog where they can interact with the community and set up surveys, questionnaires by simply dragging and dropping.
The publishing system of Sitefinity helps to publish, consume, and expose content from various sources including external blogs and websites.
---
Measure the Effectiveness of Your Online Campaign:
The Analytics module of Sitefinity is a powerful combination of Google Analytics and Sitefinity's intuitive, easy to use interface.  It is by using this tool that marketers can leverage traffic statistics, visitors' profiles, and usage information to attune your business strategy.

---
Optimize the Lead Generation Process:
The advanced Form module of Sitefinity helps business owners to collect information from visitors and this helps to create better content that can lead to successful conversion leads.
The flexible Form builder allows creating registrations, surveys, applications and questionnaires without any help from the technical team.
---
Engage with Community and Customers with Newsletters: 
Sitefinity's newsletter module allows creating and managing personalized email campaigns and measure the effectiveness.
Dynamic contact lists from account registrations, forms submissions and various other sources can be used to segment the audience and keep them informed with relevant content.
Are You Looking for Sitefinity Support Services?
---
Reach Out to Global Audiences in Their Mother Tongue:
With Sitefinity development, you can now easily create and maintain content in various languages.  When visitors see a site in their own language of choice, they take more interest. So, simply create a content piece in one language and create its versions for other languages.
The language synchronization service ensures consistent layout and content across multilingual sites.
Also Read: How Sitefinity CMS Delivers Superior User Experience to the End Users
---
SEO Tools Help to Improve Rankings
The integrated SEO tools ensure that you get the most of your site with enhanced visibility among search engine results. With the tools you can now painlessly edit the page names, descriptions, titles, keywords and also improve SEO results for images and identify pages that have missed meta tags.
To conclude, I can say that Sitefinity CMS development has powered over 7000 websites and the platform has helped organizations to pursue their online goals effectively.