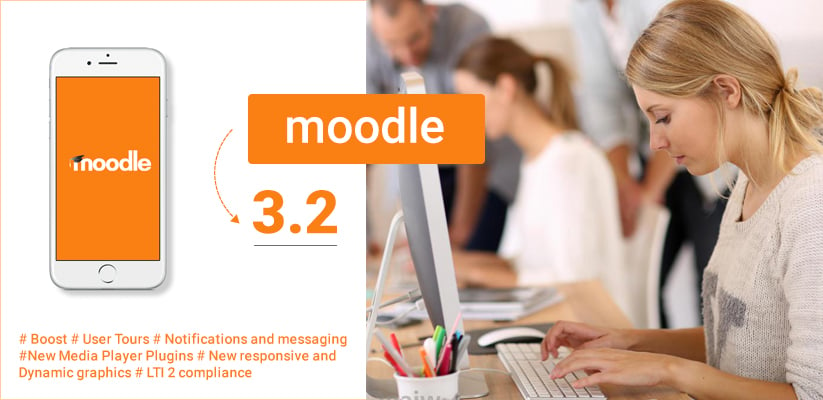 A Look at What's New in Moodle 3.2
Moodle 3.2 has been released and this new release is a great step forward for open source LMS projects. It is now easily available for downloading from Google Play and the latest version is focused on improving the performance and user experience and this makes it more feature rich and accessible with a click.
Though there are many exciting new features in Moodle 3.2, here in this piece of writing, I will focus on some of the major features that are essential for all the users to take a look into.
 Boost:  This is a new core theme based on Bootstrap 4 that will help to create a responsive, modern and attractive Moodle site. This new theme will also improve the user interface and since the changes are not too radical, the users can learn it easily and offer a fresh and new structure to their sites and mobile apps that they are using.
This offers better navigation and configuration and even more space on your screen with the menu options available for important courses. Since, existing Moodle themes will still be supported, the users can easily migrate to the new interface according to their requirements.
---
User tours: Another new feature in Moodle 3.2 is the facility to create user tours, which is mainly a guided walk-through of various courses that incorporates pop-up windows that direct the user to certain specific features or even explain them how to navigate through a relevant area.
Administrators can easily access other tours that are published by the Moodle community and can import them directly or even use them as templates for new customized tours. The custom tours can be restricted to specific audiences also based on their roles and the administrators can create personalized tours for students based on their ability or even create separate versions for staffs.
---
Notifications and messaging: There has been made great improvements to messaging and notifications and it has been completely redesigned to get a modern look and feel. The functions are user friendly and very easy to use and this makes it easy to configure the way you want Moodle to notify you about the important events on the site and this can be via email or even direct mobile notifications.  This new messaging functionality also means that you can search and contact other users on any device.
---
New Media Player Plugins: Moodle 3.2 has come up with a range of new media options and it has now included an updated media player: Video.JS. It allows a greater range of audio and video formats with advanced features that include multiple video sources for cross device compatibility, captions and subtitles, adding thumbnails and defining controls, auto play and even looping.
---
New responsive and Dynamic graphics: Users can now easily generate responsive and interactive charts with a new graph library in Moodle 3.2. This allows them to understand more about the course by viewing the graphical information that is in a summarized list format. The attractive charts and graphs allow individual data to be displayed as a tool tip or can be accessed via a table. The graphs are fully responsive and can be resized to fit the range of devices without any sort of distortion.
---
LTI 2 compliance: Moodle 3.2 is compliant with LTI 2 and so it is now easy to access the shared content. Cartridges are implemented so that interested candidates willing to access the LTI tools will now know more about the content that has been shared and also get handy information like the icon, description and the title. The Content Item, which is a powerful tool enables the users to customize the LTI tools and configure them according to their specific needs.
---
Thus, there are plenty of new features with Moodle 3.2 that will attract you. So once you are aware of your requirements and the new features, you can upgrade your Moodle version or create a fresh website for your learning organization.