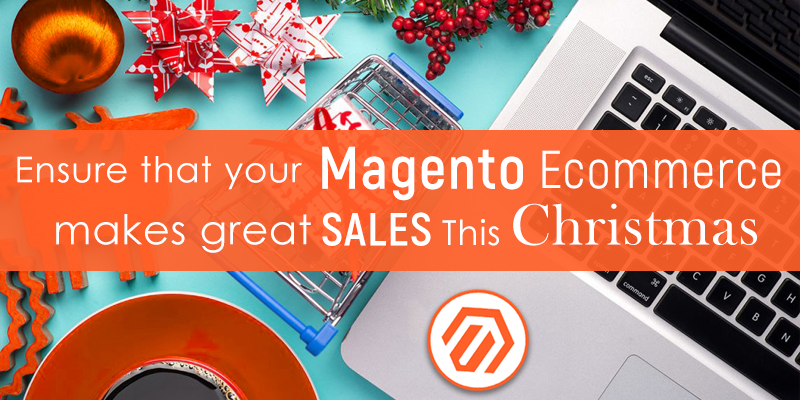 Ensure that your Magento Ecommerce Store Makes Great Sales This Christmas
When it is all about online business, there are many ecommerce platforms that offer varied features and functionalities to the merchants. But Magento is considered as one of the best and popular platforms that can help your ecommerce store to boost sales.
With the holiday season around the corner, it is a huge opportunity for the online stores to skyrocket their sales and earnings by converting the maximum number of visitors of their stores into their customers. But cart abandonment and bounce rates are some of the biggest problems of ecommerce businesses and this continues to grow. Abandonment has reached about 77% according to reports and this is a pretty depressing figure.
However, most store owners tend to implement new techniques that can help them boost sales and maximize earnings, but others simply wonder about what to do to enhance their sales. So, if you want to avoid abandonment at peak, then here in this blog, I will discuss some of the most vital tips that will help you to skyrocket sales and reduce potential abandonment.
Offering Great Holiday Discounts:
This is the most common and interesting thing that you can do to lure your visitors. But there are many store owners who don't take interest in it since discounted prices often hit their earnings. But as an entrepreneur, it is important to understand that higher number of sales make up for the discounts that you offer your customers.
---
Answer Queries Promptly: 
During Christmas, people do a lot of shopping and they also have many queries. Live chat options in your Magento ecommerce websites are great channels for offering immediate assistance to online shoppers. Since holiday sales rush can often leave the support staffs overloaded and also leave shoppers waiting to have their questions answered, it is very important to keep them engaged in your site and also arrange for quick assistance.
---
Give a Makeover to Your Site:
A simple makeover of your site can directly impact your sales. There's no doubt that an attractive Magento website development helps to sell more, but it also reflects the time of the year and will help visitors to relate to it more. With Christmas celebrations beginning, you can plan all the changes and decorate your site that reflect the mood of the holiday and the beginning of the new year.
---
Use Thumbnail Images:
During the holiday season, most customers are on a shopping spree and including thumbnail images of the products that they have placed in the shopping cart can remind them of what they actually want from the site. By doing this, you will eliminate the possibility of distraction, especially when customers cannot recall what they are buying.
---
Creating Urgency to Purchase: 
This is of course a successful technique that turns holiday shopping visitors into buyers. For example, mention the expiry of any discount that is shown during the holiday season and you can also include bonuses available to the first 1,000 purchases of any specific product. You can also offer "Buy now and get free items". But these sorts of urgency conveyed, should be tested and refined to identify the best urgency techniques.
---
Publish Some Customer Reviews:
Customer reviews can help you to gain credibility and authenticity of your website. E-stores that are built using Magento software should always post reviews about their services as this will help the buyers to make decisions easily about their purchases. Once your customer reads the reviews by other people, it will become easy for them to make a purchase and this will also help the e-store owners provide the best service.
---
Be Clear About Any Extra Charges:
Reports have stated that 56% shoppers said that they found the costs unexpectedly when they were about to complete the purchase. When they find a particular item, they usually add it to the cart, but while checking out, there are additional fees that weren't mentioned earlier. This makes the customers feel unsure about whether the deal is a good one or not. Maintaining transparency and offering free and quick delivery during the festive season will help you to retain your customers and reduce abandonment.
"While there are various ways to boost your conversion rate and reduce abandonment this holiday season, the above tips are easiest, tried and tested means to reach your business goals. So, get started for the holiday season by following the suggestions discussed."