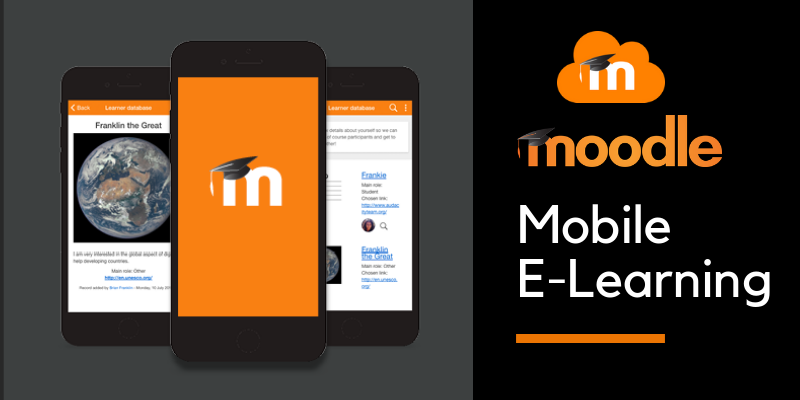 Is It Time for Mobile Moodle E-Learning? Yes!

Is your learning management platform satisfying your organization's training objectives? Have you modified your programs to fit the needs or have you optimized your LMS platforms to offer the best user experience?

Whatever steps you may take to keep up with the accelerating pace of changes, your learners always need a portable device through which they can easily access your e-learning course modules even on the go. Companies are often challenged with the huge gap between desired skills and the ability to ensure that the employees can easily tackle the critical business challenge.


As more and more students often access courses from their tablets, smartphones or mobile devices, it is increasingly important for the e-learning organizations to create courses that are mobile friendly. And again encouraging the students to install the official Moodle mobile app is also another means to improve their learning experience.

Today, we all are highly dependent on our mobile devices and rely on them for everything that we do, communicate, browse the internet, take picture, play games and etc. and so mobile learning is also gaining much popularity with the Moodle LMS platform.
Do you really know about mobile Moodle learning? Keep reading
In simple words mobile learning always refers to as anytime and anywhere learning.  It is possible by using Moodle LMS development because the courseware is present online within the LMS and it can be easily accessed from any location. With the added benefit of collaboration, increased mobile and fast communication, mobile learning with Moodle is also fast configurable across a wide range of platforms.
Now the decision of which device to target for mobile learning, usually depends on some important variables that include the location of the user, the time they have and they work they are actually trying to do.
Also Read: Moodle LMS Reporting Capabilities and How They Help Organizations

One most important thing that e-learning organizations should always consider is that the mobile aspects of e-learning should not be a primary thing, but it should be complementary. Your mobile Moodle course may not deliver all the materials and conduct learning through the device, but it should offer the benefit of learning on the go.  And so, understanding the weaknesses and strengths of each device is essential as all mobile devices are not just the same and have different features.
How can you use mobile learning and help your learners?
Did you know that more than 70% of the global internet traffic is via mobile devices? Since most people who have little education are using a smartphone, it will help to reduce the adoption time. Using mobile learning methods can be very simple and it can be used to deliver both static as well as multimedia content. To present your Moodle courses easily on mobile, you can choose to use different learning methods that include:
Game based learning or gamification
Audio and video lectures
Quizzes or quick polls in class
Documents or e-books
Test sheets, assessments, reports and knowledge checks

What are the organizational benefits that you can enjoy using Moodle mobile applications?
Training and development should always adapt to prepare the learners for tomorrow's workplaces and also at the same time recognize the unique abilities of the individuals. Since pen and paper tests can be a stressful task to manage, mobile assessments can be done easily from anywhere, and this makes the process more comfortable and also more effective.
Mobile courses also allow the opportunity to participate in various activities and access the grades quickly. It, in fact, gives more space to the users to learn and also grow. The users will be able to see and verify the answers and also the total marks that they have received.
"Not only this, Moodle also allows the administrators to tailor the learning process as per the needs of each individual learner and also ensure that all their needs are met. Mobiles often provide more methods to reach out to the learners and so you can easily set up group discussions, forums, private and SMS messaging."

"