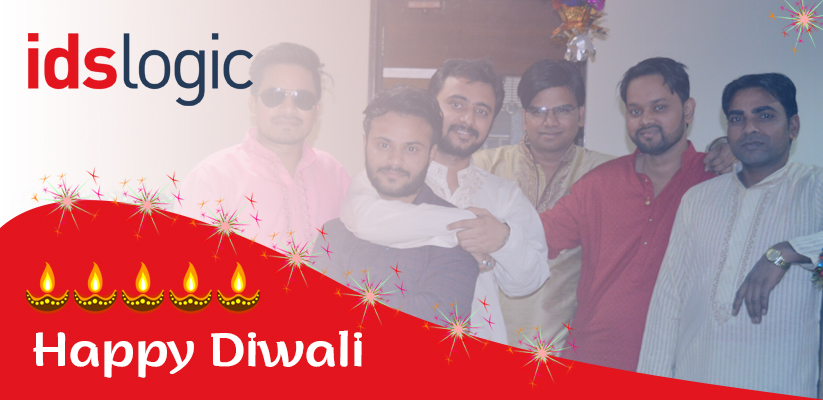 Celebrating Diwali at Office the Family Way!
As one of the biggest and auspicious festivals, Diwali has a huge significance in our country. The festival gives you all the reason to set new targets, foster new friendships and overcome the evils of work life. It's a festival that displays the true meaning of the celebration.
Like every year, IDS Logic continues its tradition of celebrating Diwali with its staff and makes sure that the employees feel at home on this special occasions.
At IDS Logic, the spirit of Diwali celebration this year turned out to be magical with the most creative and striking Diwali celebration ideas. Apart from sharing Diwali gifts with employees, the celebration included- flower and lighting decoration, lunch, games, ethnic wear, and Rangoli.
Grand Decoration of the Workstation, Entrance and the Reception: As a primary custom, Diwali decorations are done using garland, fancy lights, and ribbons. Keeping it traditional our workspace, entrance, and reception areas were also decorated beautifully by our housekeeping team.
Ethnic Wear and Rangoli: Ethnic wear dress code motivates employees to showcase their styling, dressing and overall persona that fits the festive theme. Every employee at IDS Logic turned up in their ethnic wear and participated in designing of Rangoli that added more color and positivity to the atmosphere.
Food, Fun & Games: Besides basic décor ideas and activities, there were lunch arrangements, fun activities, and games. North Indian food and sweets were served in lunch. After which, it was time to have some fun and games.
 Two individual games were arranged: –
Scavenger Hunt

Tambola
In the Scavenger Hunt, there were 14 tasks to be completed within 45 minutes. There were 10 teams, each consisting of 3 members. It was an all-in-one pack of fun activities that included- singing a complete nursery rhyme and make a video as proof, giving a twirl to the teammate, act like a superhero and shoot a video, the whole team dancing on a single song in the middle of the office etc.
The team, which completed the maximum task within the time limit was announced as the winner. Tambola was also played and three lucky employees were listed as winners.
Gift and Prize Distributions:
Winners and runner-ups of Scavenger Hunt and Tambola were awarded by the Honorable Director of IDS Logic-Mr. Sushant Das.  Special gifts and sweets were also distributed to all as a token of appreciation for being a part of the IDS Logic family.