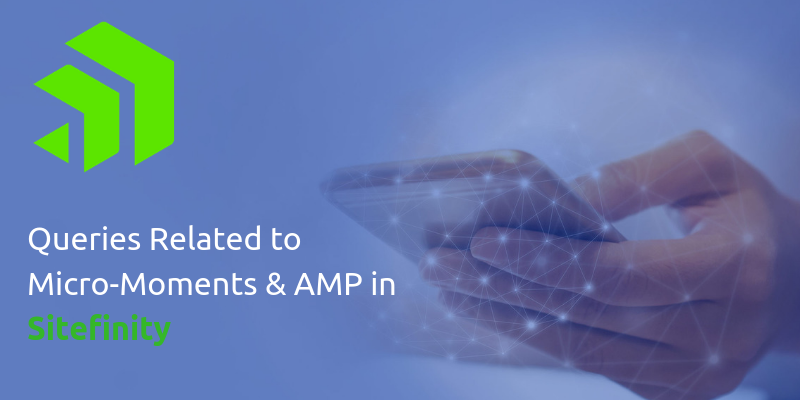 Answers to Some Queries Related to Micro-Moments, AMP in Sitefinity WCMS
In today's digital environment, organizations have to address a wide range of audiences and make sure that their visitors on their site views only relevant content delivering the best information at the right time.
Since it is very difficult to satisfy everyone with relatively generic information, personalization allows you to create a personal and relevant conversation with their customers by offering them the best information that is useful to them.
Again offering useful information is not enough. Your content should be accessible from various devices that include mobile, tablets, desktops and etc.
A few years ago Google introduced micro-moment, which is a new concept of consumer behavior.  Google Micro-moments include moments of intent – research moments, discovery moments and purchase moments that happen on a mobile device.
---
But What Does Google Micro Moments Mean for Any Business Organization? 
This means that it is just not enough to have a responsive website. Your customer's journey should be optimized from a mobile-first perspective and the content should be able to adapt to screen size accordingly.
Sitefinity web content management offers a wide range of features to implement all these and capture a wider market base.
---
While Using Sitefinity WCMS, Should Businesses Consider the Mobile-First Approach to Design Their Site?
Most organizations have already adopted the mobile first approach and they are witnessing huge success, increased user engagement and higher conversion rates. With Sitefinity, you don't need a mobile version of your site to be mobile friendly.
Sitefinity web content management system allows you to adapt your current site to any particular device with Responsive Design. The transformation automatically optimizes the site for each visitor based on the unique screen layouts and responsive rule sets.
By using the responsive designs, the Sitefinity developers allow the web experience to be optimized for many devices.
These optimizations can be previewed and also tested by using an emulator that is built-in and that simulates how the website pages will be transformed for tablets as well as smartphones. Other devices that support include the iPhone, iPad, Samsung Galaxy Tab, HTC Incredible and etc.
---
How Does Sitefinity CMS Support for Google Accelerated Mobile Pages (AMP)?
Sitefinity 10.1 supports Google AMP (Accelerated Mobile Pages) and this is an initiative by Google for providing a lighting fast method to load the content on mobile devices. This helps to enhance the Sitefinity digital experience in functionality and styling over anything else.
It offers great benefits to the marketers. Since our attention spans are reducing to seconds, if any web page doesn't load quickly, we usually search for a new resource. Sitefinity offers features that help to load the web pages fast on mobile devices.
Securing Sitefinity's Administrative User Interface Is Easy with These Tips
Competitive advantage is also another benefit that Google AMP pages offers. The reality is all businesses create content for different audiences and AMP helps to improve the search performance and also makes the content visible to more people.
Providing a better mobile user experience always ensures a market advantage and helps to boost business sales. Once you create a new, event or post, Sitefinity CMS automatically creates an AMP with the respective content.