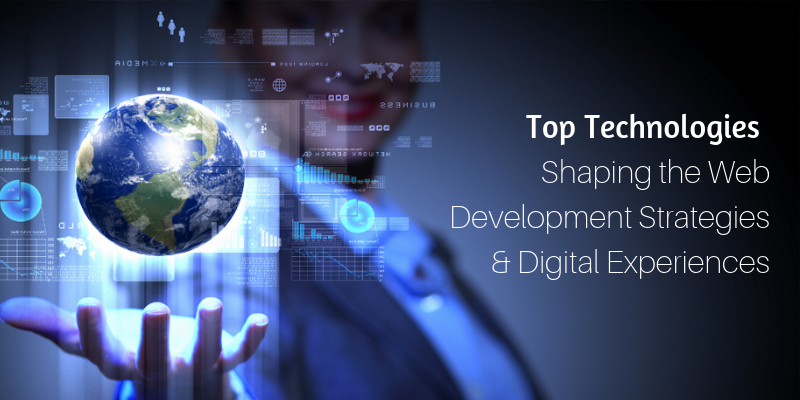 Top Technologies That Are Shaping the Web Development Strategies and Digital Experiences
The web development space is constantly evolving and is also expanding its support for the latest technologies. The mobile revolution has also paved the way for diverse web technologies and frameworks and there are some recent trends that have deeply influenced the web development and which is very important to incorporate into your website to take your business to new heights.
Here in this blog, I will discuss with you some of the latest web development trends that you need to follow if you want to keep your business growing and flourishing.
Progressive Web Apps (PWAs)
PWAs came into the market in the year 2015 and it took two years for the pioneers to convert the PWAs into one of the prime web development trends. They are web-based applications that offer the look and feel similar to mobile applications.  They use the latest web technologies to offer users app-like experience in a browser tab. They combine the best of the two and bring before the users the dual benefits. You can easily access them from every modern browser without installation and offers top lever full-screen experience irrespective of the viewport. PWAs also load if you have a poor network connection and the apps are able to send the users push notifications. It helps to increase engagement, higher conversion rates and also improved reliability.
---
Artificial Intelligence and Chatbots:
Both these technologies have made a strong impression in the top 10 web development trends and big companies like Facebook, Google, IBM, Amazon and etc. have already considered the prospects of investment into AI and chatbots and have stimulated the efforts that go into it. It is predicted that chatbots will eventually revolutionize how computing is experienced by users. By the year 2020, AI-based web solutions will likely incorporate voice recognition technology and also revolutionize the way people interact on the web.
Popular Tools That Can Be Used to Create Multilingual Websites
---
Motion UI
Working with this is no rocket science, but the package includes a CSS file with already made effects as well as some SAAS files that let you play with animations and also create them. The library allows you to use transition effects and build single CSS animations. The features that make Motion UI as one of the web development trends are its simplicity, universal character, flexibility and etc. Motion UI also gives you multiple parameters that helps to make your modern animations work the way you want.
---
Blockchains:
This is a fast developing technology that proves to be truly revolutionary. The essence of this technology lies in the use of the shared database. Multiple computers use the records of the database, so it is near to impossible to corrupt any data in a blockchain technology. In order to destroy it, you need to destroy every possible PC that is on the net or cut off all networking connections on the Earth. Since blockchain cannot be controlled by any single party, it is near to impossible to hack any data that are stored using this technique. In the coming years, blockchain will see immense popularity in the creation of Smart Contracts, supply chain auditing, enable automatic protection of intellectual property and etc.
All the latest web development trends have high potential to propel your business to great heights.  So, choose any technology carefully so that it meets your business challenges and helps you to grab the best opportunities in a long run.