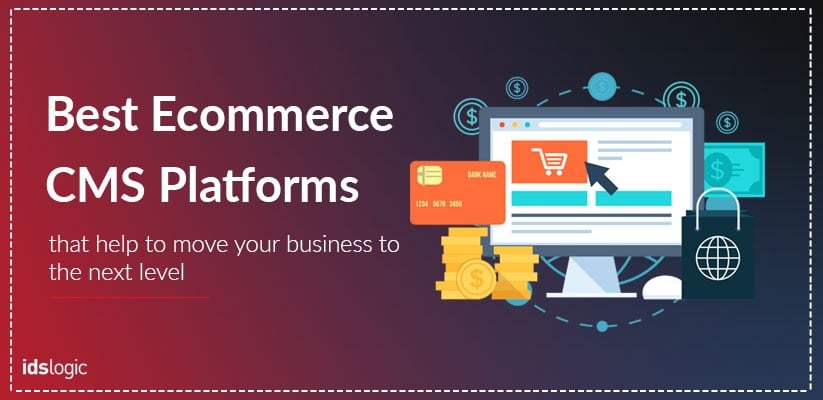 Best Ecommerce CMS Platforms that Help to Move Your Business to the Next Level
With people using their mobile devices more and more, ecommerce is gaining popularity as customers look for easy options to purchase goods or services while enjoying the comfort of their home. Nearly 75% of the world's population are using the devices extensively for varied purposes and ecommerce apps are adding new dimensions to the global economy.
Surveys have stated that visiting brick stores and selecting products is outdated and smart shopping habits through ecommerce stores are gaining popularity.
So it is required that business owners understand the ecommerce platforms before creating their website and take informed decisions while entering the online shopping channels.
"So did you know that choosing the right CMS ecommerce platform can make your business processes easier and help it grow?"
For that, it is important to understand the features of some of the most popular Ecommerce CMS platforms. And this is our attempt to help you have a clear idea of the varied platforms:
Choosing the Right CMS E-Commerce Platform
Magento:
One of the most important Ecommerce platform that delivers high performance and scalable services for medium, large and small online business is Magento. Available in two different forms, Magento open source, which is a free CMS software is used for self-hosted online stores and Magento Commerce includes Open Source and Platform as a Service (PaaS) hosting.
The strength lies in the varied in-built functions that includes some changing currency, languages, customizing the discounts and applying them for the products, and also the customers and etc.
Magento is easy to integrate with any other third party software, other platforms and also axillary services. It also offers various customization options that help to run the store to cloud and also have control over everything.
---
WooCommerce:
We all are aware of the fact that WordPress is a leading CMS and that is the reason why WooCommerce is one of the most popular open-source ecommerce plugins that enable any WordPress websites turn into an Ecommerce store. 
The platform comes with a lot of themes and plugins that help to make your store more active and functional. The plugins help to add various features to the basic software in a single click and most of them are usually free to download and installation.
The mobile friendly nature of this WooCommerce makes it very appealing to the brands interested to cater to a huge customer base using tablet or phones to do their shopping. But one thing is that, since Woocommerce can only be used with WordPress, it is not considered by most retailers or brands.
---
Volusion:
This is another one of the best e-commerce CMS that offers a complete cloud based solutions to the customers. The built in features are directly set to the dashboard and this helps to set them apart for the other CMS ecommerce development platforms. Volusion is also loaded with features like "deal of the day", Amazon and eBay integration and more that helps the users to retain their existing customers and also build brand reputation at the same time.
Currently with more than 40,000 stores running and hosted by Volusion, the CMS focuses more on the professional presentation together with fast and simple admin controls that allows the users to get to the online store in minutes or seconds.
---
Drupal Commerce:
After WordPress, it is Drupal that is the most used open source CMS platform for bigger requirements like creating web portals for educational institutes or universities.
If you want to leverage the content marketing capabilities of Drupal CMS for your ecommerce store, then Drupal Commerce is both SEO friendly and flexible. It comes with easy to use administration system and is also capable of handling complex payment models like the ones that are subscription based.
Also Read: Key Benefits of Integrating CRM Software in Your Ecommerce Business