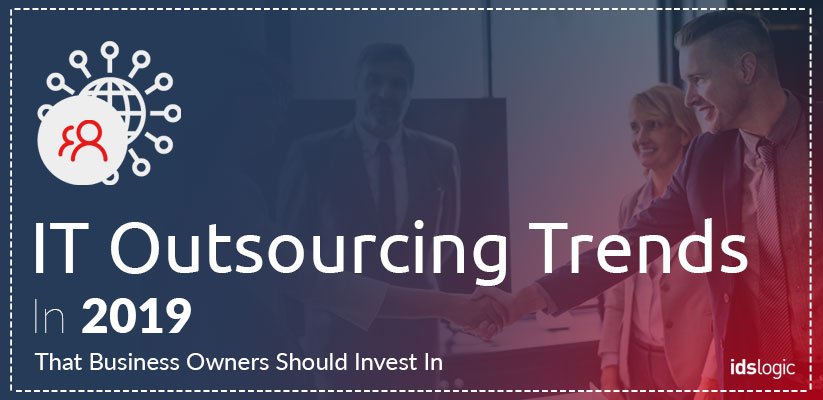 IT Outsourcing Trends in 2019 That Business Owners Should Invest In
Company time and resources should always be used by tech startup leaders efficiently to stay afloat in today's competitive business world.
With your growing customer base and your sales increasing, you have to add new features to your website to improve its performance. And to add these new features, you also need to hire software experts having knowledge about varied technologies that can add tremendous value to your company and at the same time save a lot of money.
With the demand for IT talent increase, businesses have to take advantage of outsourcing their tasks instead of hiring in-house specialists. For software developers and business owners, understanding the future software outsourcing trends is crucial for succeeding in the industry.
Here I have discussed a few of the future IT outsourcing trends that you need to watch in 2019:
Quality will Matter More than Cost Reduction:
Software outsourcing has always been about cost reduction, but this alone should not be the only deciding factor when it is about choosing your offshore software development partner.
""The relationship between the agency and the client will be human driven and based more on the entire work process rather than solely being price oriented.""
The client should also focus more on getting high quality work and timely deliver rather than considering less costing. In this way, the risks of outsourcing the project will also be shared and the service provider will focus more on offering value added services to the customer.
---
New Contract Models:
Both the clients and software outsourcing service providers are looking for new contracting changes. And this step will make outsourcing more value oriented and interpersonal.
Latest contracts will now be focused on the outcomes of the project and outsourcing companies in India will be reached as service integrations who can share the responsibility and the risks.

Procurement will become more important and the notice periods will also become shorter. It is based on the outcome of the business solution that new contracts will help the clients choose IT vendors capable of delivering best results that will add value to their business.
---
Automation of Various Manual Processes:
Another most important IT trend of 2019 is that in the coming years automation will become crucial. Business sectors will move more towards automated processes and will be powered by virtual agents and bots, which will help to streamline the routine tasks.
"There will be big investments in AI and Robotic Process Automation and these two will become the most important technologies of the coming decade. There will be increased demand for big data analysts, professional data scientists and AI experts."
Outsourcing companies in India that caters to clients located in the U.K., US, Canada, Australia and etc. will have to invest in automation in their service offerings.
---
Progressive Web Apps and Smart Software:
PWA features are now included in the mobile versions by software developers and soon it will also be introduced by businesses from the industries like banking, ecommerce, healthcare and etc.
Are You Looking for IT Outsourcing Partner?
With the growth of IoT in the market, the demands of connected devices has also increased and people are getting more inclined towards using them. The investment in IoT has increased and soon such apps will increase in number.