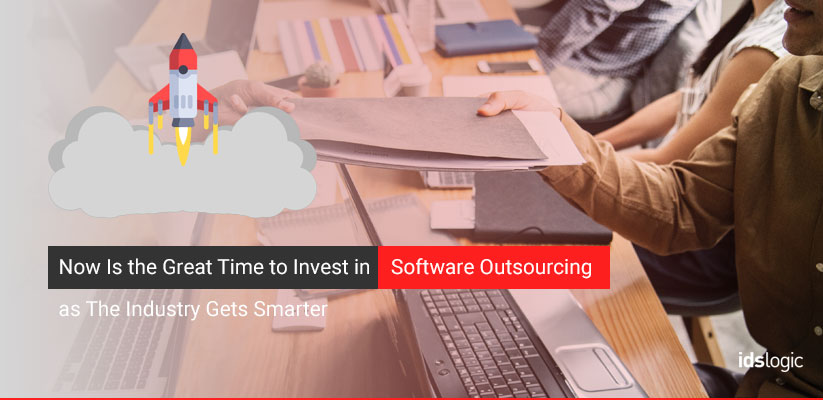 Now Is the Great Time to Invest in Software Outsourcing as The Industry Gets Smarter
Software outsourcing is the new normal. And if your organization's growth is based on software and your IT team has too many things on their plates to handle, then what can be better than becoming partners with an outsourcing company?
Outsourcing is basically an arrangement that is made by service providers who allow hiring a third party software contractor to do the related tasks that could have been difficult to do in-house. But creating a complete software application in-house needs both time and money and not everyone can hire an extended IT team to complete their projects.
Since, in this digital world, excellence is defined as an organization's ability to attain their targets within the specific time, software outsourcing services can place your business much ahead of the competition.
Though the practice of outsourcing has been around for a long time, but it is now prepared for a global revolution. Enterprises can no longer shy away from investing in innovative systems if they are looking forward to enhance their competitiveness in the market.
Software Outsourcing Services are Adopting AI Solutions for Automating Processes
Business organizations that are willing to stay at par with advanced markets are pushing outsourcing boundaries so that they cover the areas like idea generation and innovation.
As organizations are actively adopting Artificial Intelligence solutions to reduce their cost, automate various processes and streamline them to ensure sustainability, outsourcing services are also preparing for the future transformation as robotic automation and AI has impacted the traditional outsourcing delivery model.
---
Better Risk Management is Possible Now with Multiple Vendors
Software outsourcing is volatile. And for an organization's long term viability, effective risk management is crucial. It is advised to invest in outsourcing companies that adopt the best practices to reduce risks.

Splitting the components or various operations amongst multiple vendors also help mitigate the risks. But, this demands proper communication and the key to success is also maintaining transparency.
---
Integration of New Ideas and Innovations will Surely Lead to Better Market Position
Outsourcing service providers are now exploring newer areas and innovations that will enable them to uniquely secure their position in the market and gain new competitive advantages. The majority of service providers are still unable to offer such innovative services because of the absence of an economic incentive to promote innovation and the reluctance of businesses to pay for advice on innovation.
But very soon, the outsourcing sector will also expand in new areas that will be prompted with sophisticated technologies. Evolving trends will also need the desired experience for service innovation and market opportunities.
---
Quality of Manpower & Solutions have a Price & You Should Pay
Another most important factor that the software outsourcing industry is considering is high quality services. Organizations and enterprises are now attracted towards such services because it ensures that a consistently high level of quality is maintained although the project development. And high quality is only possible when the cost is considered to manage extremely good value.
Also Read: A Checklist for Those Looking for an Offshore Outsourcing Development Company
---
Better and Enhanced Security for Long Term Benefits
 If your in-house team doesn't specialize in any specific IT task, there are good chances that your software security will not be in safe hands. Security flaws will of course put sensitive information at risk.  Today, outsourcing companies are offering a better coverage against IT security breaches and their team also ensures that the codes and processes go through rigorous testing phases to offer security as much possible.
Software needs regular maintenance to keep them safe from any attacks so hiring a software outsourcing company helps your business to get the benefit of round the clock security operations.
Outsourcing often maximizes the flexibility and is of course a great option to obtain the digital transformation through innovation while reducing the risk and enhancing profit simultaneously. It helps businesses obtain the competitive advantage without losing their efficiency and focus.
Also Read: Why Outsource To India