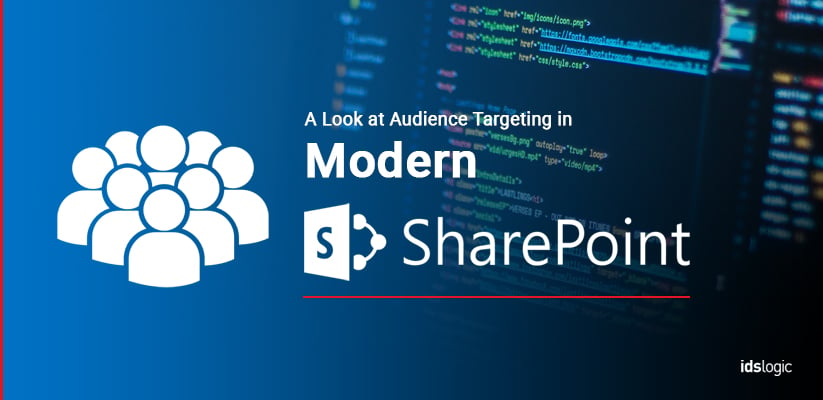 A Look at Audience Targeting in Modern SharePoint
Microsoft has been adding new features and functionalities to the SharePoint Online and with the new modern SharePoint experience, there is a high focus on enhancing the content editing experience and end user experience for staff members who publish news posts, document libraries and pages and etc. One latest announcement is the launch of audience targeting for SharePoint.
What is Audience Targeting in Modern SharePoint?
Audience targeting in Modern SharePoint is a great way to tailor the news that is displayed on the same page for audiences according to their profile. It is within SharePoint development that you can now target specific content for a defined audience group, Active Directory based security groups or by rules based system to create a global audience.
Once you have defined them, you can set up a list or SharePoint library items that will only appear to people within that audience. In addition to this, you can now target site navigation links to audiences. This simplifies the user's experience as they can easily see only the navigation links that are relevant to their needs.
High Level Description:
With audience targeting in Modern SharePoint, you can now define what news articles or pages should appear on the home page of your site by configuring the things that are visible to specific groups.  With this feature, each person will have a unique experience which complies with what you wish them to see without creating multiple audience specific sites. You can easily serve them all from a centralized location with a personalized and targeted experience. 
Audience targeting support can now be enabled in news, pages and also other web parts so that you can easily define and target the audience and reach them with the best content and site experiences.
Also Read: Setting Up Internal Communications Using SharePoint
Collection of Data:
Collecting of data via online forms was never easier, but the new web based form tools have now revolutionized how we gather and analyze the data and this has made the database backed web tools obsolete. Both Google Forms and Microsoft have a wealth of features that can help to gather more data about the audience and help in categorizing them.
Things that You should Know About Audience Targeting:
At present it is available only to summarize the News Web Part and also the Highlighted Content Web Part

Audience targeting is not just security trimming. In case you need security trimming in your solution, then you should security trim your content to ensure that your end users see only the content that they are permitted to see.

It helps to bulk edit the audience property on a site page library or document

If a site collection administrator views the page containing a web part having an audience targeting enabled, then he or she will not be able to view the content unless they are a part of that specific audience group that the web part is targeted to.
Thus to conclude, Audience targeting is a great feature that can be added to your tool while building a modern SharePoint site and pages across the environment. You can use it to intelligently target the content to the specific users.
Also Read: Understanding SharePoint Document Conversation and Its Benefits