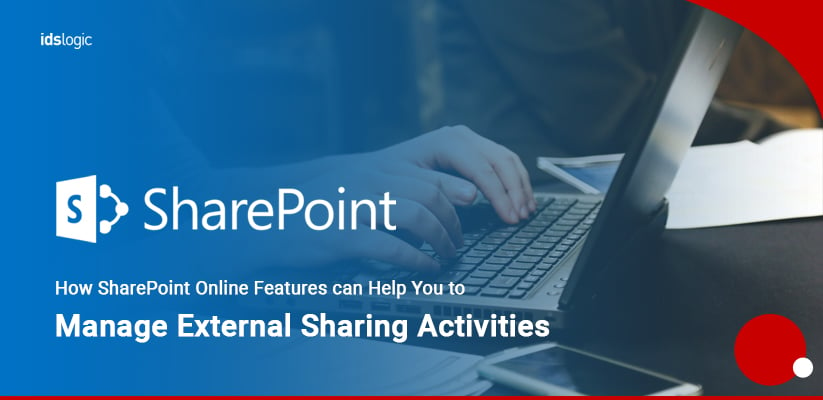 How SharePoint Online Features can Help You to Manage External Sharing Activities
Every organization whether big or small has various documents that they need to share with the end user, partners, clients and staffs in remote areas who are not present in the office location. External sharing of documents is very important as the external users also contribute a lot to the organization's growth. But at times external sharing allows access to some content which you might not want to share with people outside organization as it increases the security risks.
Understanding External Sharing:
External sharing means sharing of documents, files and any other important content with people outside the organization. Sharing the content externally requires proper planning and also a structured hierarchy of permissions, else the organization will be at risk. The external sharing is a feature, which is offered by SharePoint Online.
Various Options Available to Share Content Using SharePoint Online
With SharePoint online development you can configure your external sharing settings that are provided. You can choose any one based on your business needs:
New and Existing Guests:
This allows organizations to share the content easily with the existing external users and you can also share it with the new users. But the users need to sign in and provide a verification code in order to access the document. They will receive an e-mail invitation containing the link, which they need to sign in, when you share any content with them.
They will be added to your organization's Azure Active Directory as a guest. In case they don't have any work account, then they will have to enter the verification code every time and they are not added to the Azure AD.
Anyone:
It is with this option that you can share your content by using anonymous links and this doesn't need to sign in. Anyone having the link can have access to the content and they can view, share and even edit the documents. It is not recommended to be used for sharing any sensitive data or information with any unknown users as you won't be able to track who is accessing which document.
Also Read: Setting Up Internal Communications Using SharePoint
Only People in Your Organization:
This option in SharePoint online development will not allow any sharing of content with external users. If the users already have the access, then they might lose access to it. Only people who are within the organization will have access to the data and this option can be preferred if you want to prevent external sharing completely.
Configure External Sharing Setting:
This option can be used to share content with outsiders in SharePoint Online and also One Drive for business. All you need to do is to choose one option from the above list and together with that you will need to configure some external sharing setting so that the content is secured. The levels include:
Organization level

File, folder or item level

Individual site level
Existing Guests:
SharePoint developers can use this option and let you share the content with only your existing guests and sharing content with new users is now allowed here. The existing users who are already in your Azure AD can access the content by accepting the sharing invitations.
In order to keep a good track of your external users and also their varied activities, you will need some great third party security manager tools so that you can have a better tracking of your website documents, lists and libraries, files, folders and etc. It is suggested to create appropriate governance policies so that your external sharing of documents is efficient and without any loss.
Also Read: Important Social Media Features You Need to Consider for SharePoint Intranet