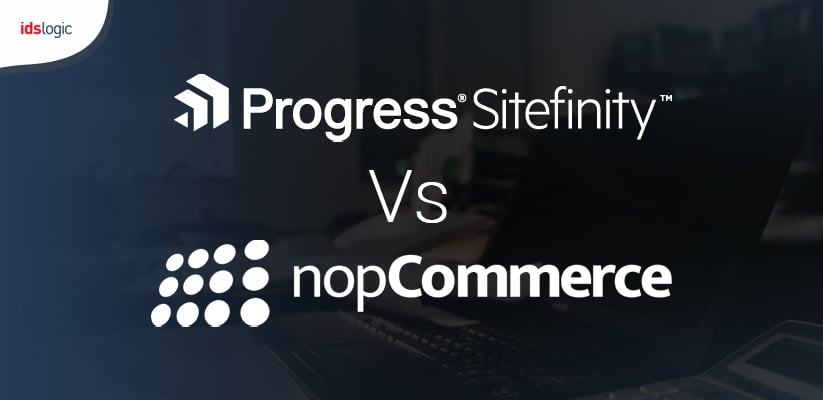 Ecommerce Sitefinity CMS Vs nopCommerce: a Brief Comparison
The success of an ecommerce business always depends on the technology that you have chosen to use and on the prominent features that it has to offer and meet the varied customer as well as business needs. it is not just that by simply choosing the latest tool, you can be successful, what you also have to choose the best content management system for your site. in case you are new to business and want to have complete control on your web content that a CMS platform like Sitefinity can help you to manage your business website's appearance, publish the new product pages, blog content and also optimize it for the major search engines. So for your ecommerce CMS you can choose either nopCommerce or Sitefinity.
Here in this blog we will discuss which CMS is best for your ecommerce business website.
Sitefinity: Top Features to Support Your Ecommerce Site
Sitefinity is an ASP.NET based CMS platform that is ideal for your business if you have to manage multiple websites or handle a high traffic volume. It comes with highly responsive and scalable features and also supports the MVC techniques. It is by selecting Sitefinity, that you can easily create a rich and personalized content that can help to enhance the customer experience and move the visitors through your sales funnel. You can easily customize the features by using a wide range of third party tools and integrations.
As a sitefinty partner, we at IDS Logic recommend this CMS to most of our clients as it helps to enrich their business with great features and also helps to increase the security. Clients using Sitefinity website development has found it easy to use for site updates and ecommerce functions.
Nopcpmmerce:  Features and Functionalities:
Nopcommerce is a free and open-source .NET platform that offers fast loading speed, various integration possibilities and high security features. it works for businesses of all sizes from startups to global corporations. nopCommerce can also allow your ecommerce business to offer thousands of products, integrated with suppliers and shipping services and accept multiple currencies.
How Choosing the Right CMS can Benefit Your Business?
A CMS has many advantages and it of course makes things easier to update and manage your ecommerce website. compared to a hard coded website.  A CMS helps to eliminate the need to write the codes from scratch for every change in your site. A skilled Sitefinity developer can customize the back end of a CMS at the outset so that you will be able to manage the content in house on a daily basis. the customised features can allow multiple people within the company to access the CMS and make updated and also eliminate any bottlenecks that occur when only a single person has to do it all.
You can have complete control on the permission levels to keep major changes under the administrator control and some items like blog publishing and content updates can be easily managed by lower permission levels.
Also Read: Is Sitefinity Cloud a Good Option for Busy Marketers
Sitefinity is a CMS that is Created with Ecommerce in Mind:
Irrespective of the type of business, there are various other factors that you should consider for picking the right CMS.  your core goal should be to create a positive user experience for the customers and take the time to fully understand the process through the sales funnel and complete the purchase and become a repeat customer. Ensure that any platform that you choose is mobile friendly and can of course handle a large volume of inventory.
If you have a small business having limited operations then anything like BigCommerce and WooCommerce can be ideal for businesses but, if you want to maximize your growth potential, the a truly ecommerce CMS like Sitefinity development is worth the investment.