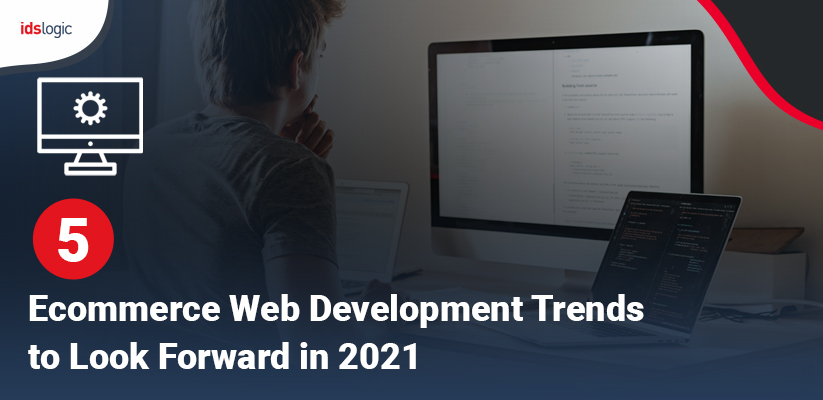 5 Ecommerce Web Development Trends to Look Forward in 2021
Over the past few years, the ecommerce sector has shown a commendable growth throughout the world. In fact, it is expected that ecommerce sales will touch $4.5 million   mark by 2021. This statistic clearly proves the success story of this sector.
Ecommerce sector's immense growth is luring a lot of sellers to set up their online store. That's why they have appointed reliable ecommerce development agency to handle this task proficiently.
If you want to set up an ecommerce website, then you should build it as per the latest technological trends. This will provide your business a competitive edge in the market. As 2021 is round the corner, the ecommerce development trends have already started to roll out. So, let's take a deep dive to learn more about them.
Top Ecommerce Development Trends 2021
# Trend 1- Voice Commerce
With the growing usage of smart speakers worldwide, it is expected that voice commerce will increase to 18-20% by 2021. This number indicates that this will be the most popular trend in the upcoming year. Buying products have never been simpler with hands-free voice commerce. So, while setting up your e-store, you should consider it in your ecommerce web development strategy.
# Trend 2- Social Commerce
Another ecommerce trend that you should not miss out to reap maximum benefits from your online business is social commerce. Adding ads on social media platforms can aid people to know about products and best offers. They will get tempted and follow the respective links to order the product. Therefore, social media integration is a prudent method that ensures the success of ecommerce websites.
Also Read: Magento Ecommerce Customer Experience Trends in 2020
# Trend 3- Omnichannel Selling
Shopping is now not limited to a particular channel. People can easily order their favorite products on Amazon, Facebook, eBay, and many other platforms. This has led to the emergence of omnichannel selling. Hence, choosing the multichannel selling will be the new trend in the ecommerce industry.
# Trend 4- PWA
One of the biggest ecommerce development trends in 2021 will be the usage of PWA or Progressive Web Apps. The ecommerce store owners are always looking for the ways to boost their sales and improve customer experience. A progressive web app will help them in meeting both the requirements.  
It is designed to deliver a native app like experience, which eliminates the need to develop a high cost mobile app
# Trend 5- Rise in Mobile Shopping
Amongst the buyers, there has been a rise in the trust factor for online shopping. They feel comfortable to shop through their mobile devices. The number of mobile users has increased in the last few years, which have made it a mobile dominant world.
No business should avoid mobile optimization when it is about ecommerce web development. So, building mobile-optimized websites continue to be the biggest trends in 2021.
Also Read: B2B in Ecommerce: Latest Trends That Are Reshaping the Industry
Ending Notes
There is no denying the fact that online shopping is reaching height. More and more online buyers are becoming comfortable with this mode of purchasing products. You can search for ecommerce solution providers to get a cutting-edge online store developed faster.
They will be equipped with the developers who stay abreast with the latest technological trends, and make your e-store updated all the time.